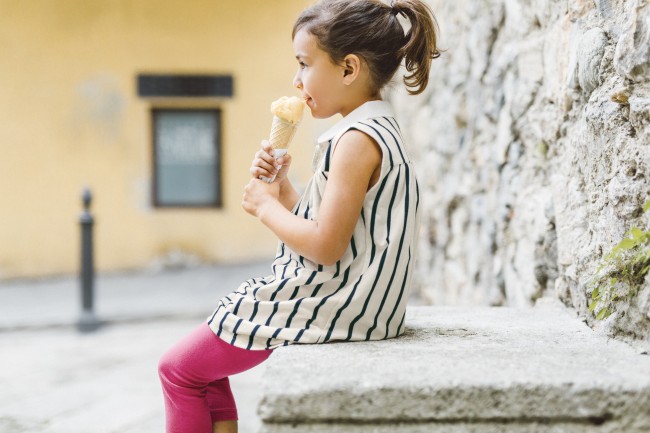 In 1953, Gregory Peck and Audrey Hepburn came together for an American romantic comedy that would later receive 7 awards. Roman Holiday brought the classic romance and elegance of Rome to people all over the world. The iconic mod styles Audrey Hepburn wears throughout the movie were a source of inspiration for our newest styles.
Mod style became popular in the late 1950s and early 1960s and focused on color blocking, black & whites with hints of color. Geometric patterns, stripes and polka dots were also key players in this trend. You'll find mod styling is easy with our newest collection. Need outfitting tips? We've got you covered.
Ciao Bella Outfit
Our Ciao Bella Flutter tee in heritage blue and cream stripe is just the right amount mod and adorable when paired with our Brillare Trousers. Top off the outfit with these Superga 2750 Jvel Classic Shoes and she will be ready for the playground or a trip to the ice cream shop.
Ready for Rome Outfit
Our Your Highness Collared Dress is something we could imagine Audrey dancing through the streets of Rome in. A modern vintage easy shift shirt dress. Add our polka dot Londi Reversible Leggings and these Old Soles Bondi Style Sandal for a polished mod look that can bring her from school to a birthday party.
La Bella Vita Outfit
Your little citizens will be living la bella vita, or the beautiful life, in our La Bella Vita Graphic tee featuring a original hand drawn graphic of a girl riding a vespa through Rome. Paired with our Trastevere Midi Skirt and Vans slip ons, she'll be ready to be on-the-go for weekend errands or a picnic in the park.
And, because you can never have enough dresses, we've put together a mix-and-match outfit machine. Feel free to pair any of the below dresses with any of the leggings you see below!
So now that you're little citizens outfit is set, follow our travels through Rome or download our scooter coloring activity!