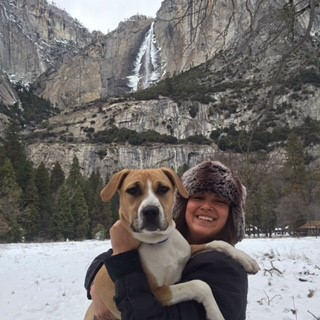 Over the past few weeks, we've been introducing you to moms that work at Tea, but we also wanted to take the time to celebrate our moms, and our friends, relatives and co-workers that are moms. We're excited to introduce you to Beth, mom to Blue (a dog!) and girlfriend of Jason, Tea's Reporting and Back Office Product Manager. 
How many years have you been working at Tea?
3.5 years.
What is the name of the mom you are celebrating? 
Beth.
What is your favorite thing about her?
There are the obvious, that she is kind and beautiful, which is pretty incredible in and of itself. However, I think my favorite thing is what is not obvious to everyone before they get to know her: she is one of the funniest people I know, but she manages that without being cruel or cynical. She's pretty amazing like that.
If you could bring her anywhere in the world, where would you take her and why?
Wherever you can bring dogs internationally…because she's a dog mother.
How will you be celebrating her this Mother's Day?
Ha. Well, for Mother's Day we will likely be celebrating our mothers. However, I think that she'd want me to get our dog a present to celebrate her "Mother's Day". Which is likely what I'll do.
Anything else you would like to share about Beth?
She's an excellent songwriter!
Make sure to check back over the next few weeks as we highlight more Moms of Tea!