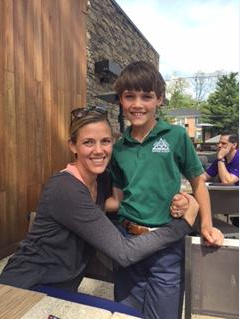 Over the course of the past few weeks, we have been introducing you to the moms of Tea Collection. These amazing women are superstars at work, and at home. Follow along as we introduce them to you and share insight into what its like to work at Tea Collection as a mom (pet moms, too!). Next up, meet Kira, our Midwest Account Manager and mom of four. 
How many years have you been working at Tea?
7.
How many kids (or animals) do you have?
I have 4 kids Adam, Claire, George and Milly.
What's your favorite thing about being a mom?
Unconditional love.
What's your favorite thing about working at Tea, as a mom?
Tea is a family and a community that is geared around family. Tea values are why I am here!!!
How do you balance family and work?
That's a tough one. My family always comes first but sometimes the busier we are the better and more efficient.
If you could be transported somewhere, right this instant, where would you go?
NYC in the 50's.
How are you celebrating this Mother's Day?
I don't know yet!
Make sure to check back over the next few weeks as we highlight more Moms of Tea!