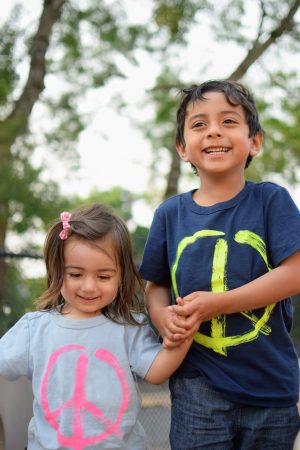 Historically, peace is often memorialized by international and domestic negotiations, compromises, and diplomacy, marked by extensive legal agreements decorated with the autographs of world leaders. However, peace is not always defined by monumental events, rather, it is made of micro-moments… moments of trust, respect, empathy, and compassion.
At the end of the day, peace is much more than a treaty. Peace is about being able to see one another and recognizing that no matter what language we speak, what we look like, or where we come from, we all share more commonalities than differences. It's celebrating those common threads that weave us all together, allowing us to understand and appreciate each other.
At Tea, we believe in peace for all little citizens of the world! As we travel, whether across the street or around the world, we keep our eyes—and our hearts—wide open. Wherever we are, wherever we go, we strive to be mindful and responsible, to make real connections—and a real difference.
Today, we observe the U.N. International Day of Peace, but in a world where topics of hate, violence, and disaster often take center stage, peace can sometimes feel unattainable. So, the question is this:
How can we work together toward a more peaceful world? Whether it's lending a hand to a neighbor in need, collecting cans to donate to a nearby food bank, volunteering at a local shelter, or making a point to smile more, what can we do to promote justice, tolerance, and kindness to pioneer peace in the world?
We want to hear how you're celebrating #PeaceDay in your home! Take some time today to ask your kiddos what peace means to them, and share their ideas on Instagram for a chance to win one of our Peaceful Graphic Tees. Or shop them here – 100% of proceeds give back to The Global Fund for Children!
For more ideas on how to raise peacemakers, check out this lovely post by Tea Ambassador, Amanda Freerksen whose aspiring little peacemakers are picture above.