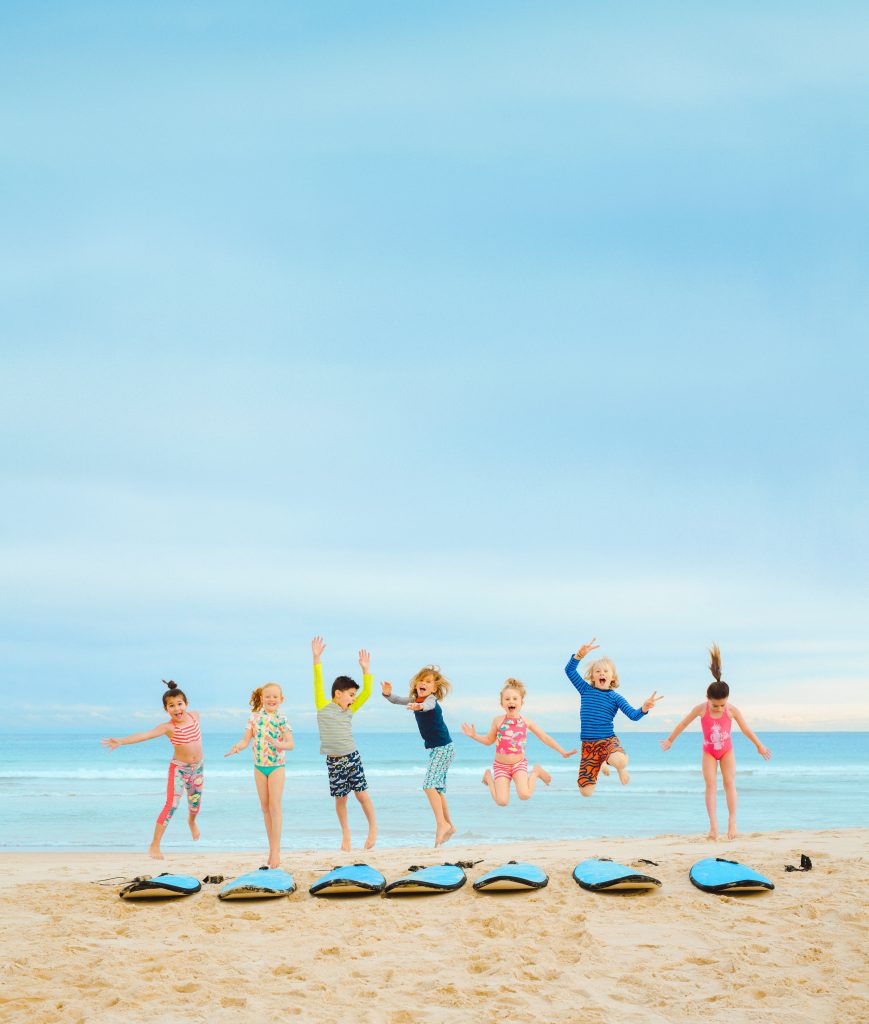 "Alright, everybody choose a leg!"
Down on Bondi Beach, the rain has cleared up, the waves are rolling in, and a tousled blonde Aussie named Jake stands in front of a row of eager young grommets (a grommet is a kid who surfs).
"Ok, everybody hop on your board and let's practice," Jake says as his co-coach Lucy moves in to help.
Before they ever hit the water, surf camp students straddle their boards on the sand and learn the basics of paddling, pushing up, standing up, and—most importantly—falling off. (The technical term is "dismount.")
"Basically, you just starfish," Jake throws out his arms, "and fall backward."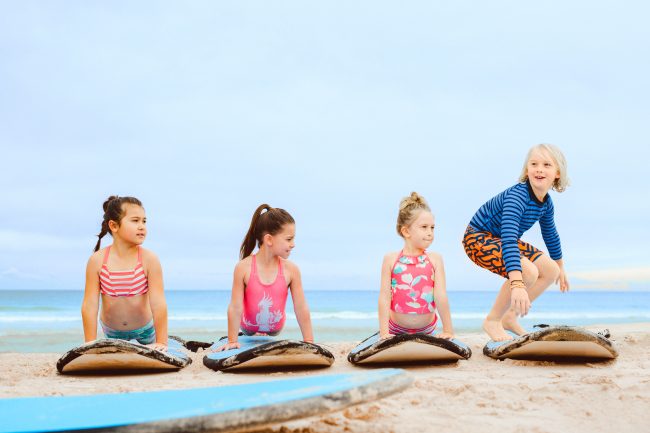 Eight-year-old Sonny, who is already an accomplished skater and surfer, has bigger things in mind. "I'm gonna do a 180 when I get out there," he says, jumping on his board.
Some of the other Sydney kids, like Taj (8) and his sister India (6) have surfed before, as well. Maya (7), has surfed once, her mom says. The rest of the kids raise their hands when Jake asks if it's anyone's first time on a surfboard.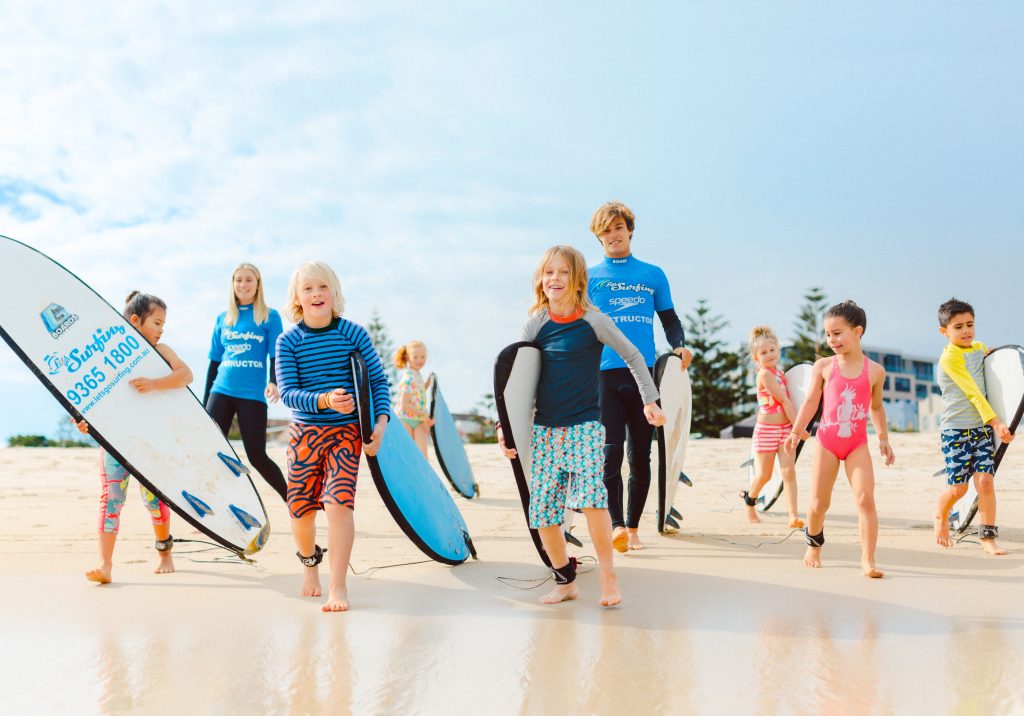 "The most important thing we want to teach them before they get in the water is safety," explains coach Lucy. A Bondi native, she's been surfing for 15 years—since she was 5 years old. "We teach them about the potential hazards like rips—before they go out there, they know how to paddle parallel to a rip current or swim over to breaking waves to get out of it."
"We always keep them away from a rip, though," Jake interjects. "We want them to have fun, not be scared."
Jake grew up surfing the Bondi waves, as well—he started at age 4. He's been teaching kids to surf for the last couple of years.
"It's very rewarding!" he says. "When they fully get it and they smile—phew! There's nothing like that! And they'll always have an edge if they get it now, when they're kids."
Lucy nods and offers, "Kids always have a good time no matter what the conditions, you know? It makes it fun."
Judging from the whoops and hollers coming from the water a few minutes later, there's plenty of fun to be had. Maya, who's surfing for her second time ever, catches wave after wave (with a few helpful pushes from Jake and Lucy) while onlookers cheer her on.
And though not every single kid stands all the way up, they all give it a burl. And by the end of the afternoon when they emerge, dripping wet and grinning, it's pretty clear that the next generation of Bondi surfers has caught the bug.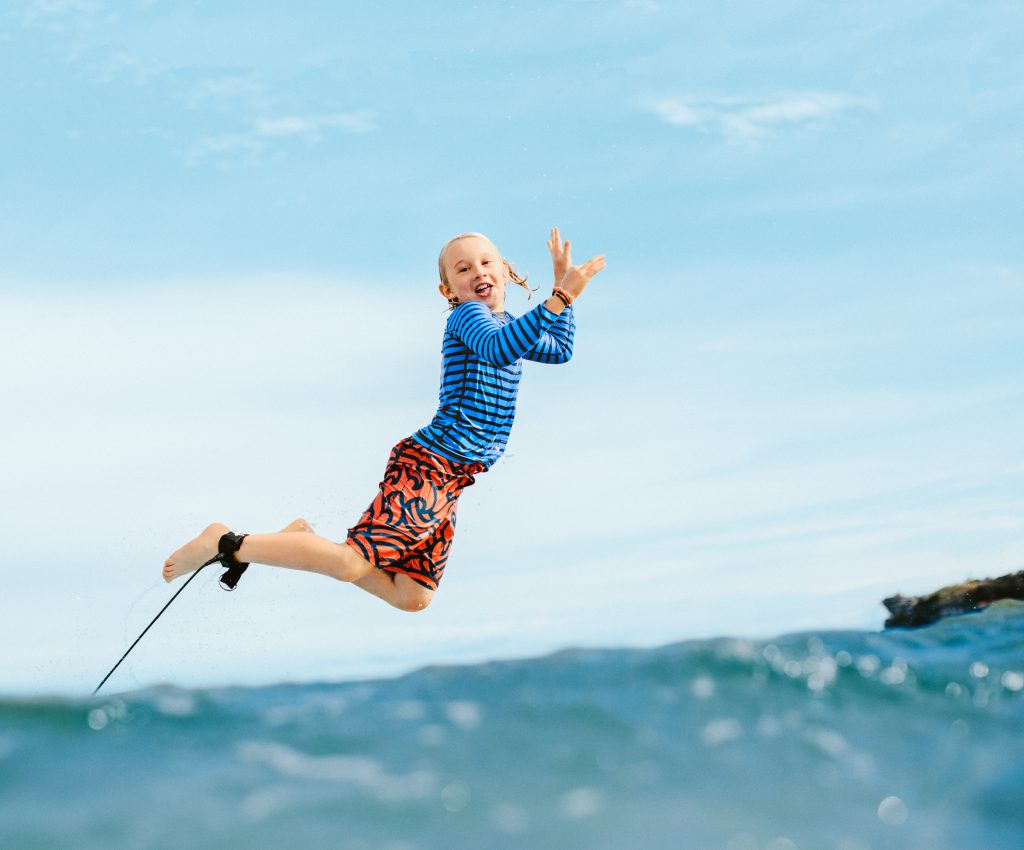 If you find yourself in Bondi and want to learn to surf, check out Let's Go Surfing – our instructors!
tc_summer_v06 from tea collection on Vimeo.
You can also shop all the styles you see here on TeaCollection.com.