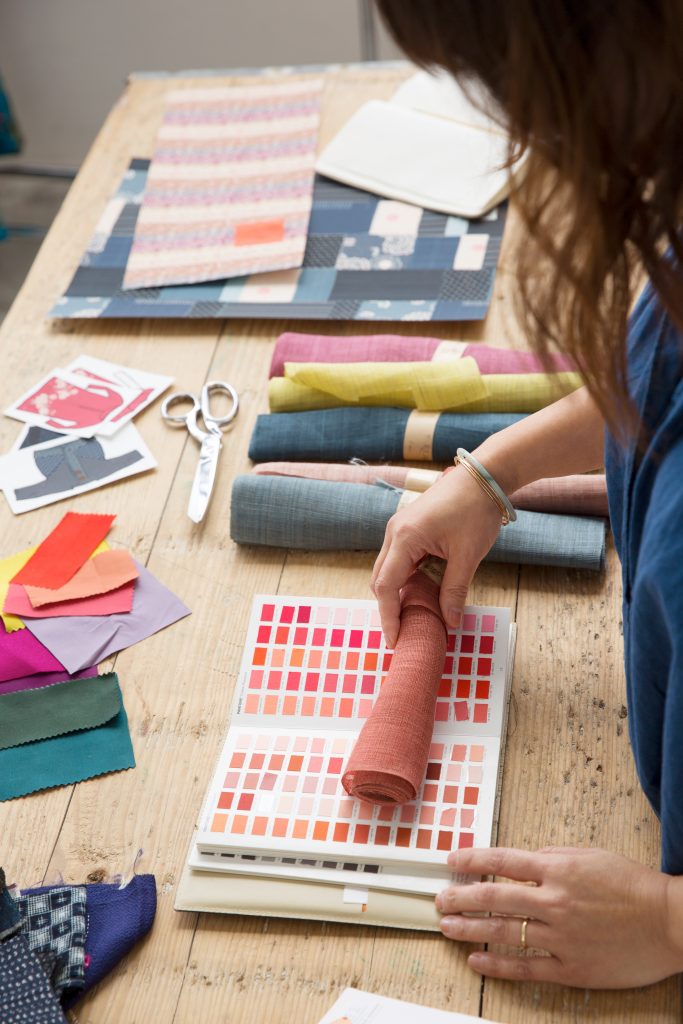 We are makers. Twice a year, Tea designers go out into the world in search of inspiration for our children's clothing collection. We discover new places and faces, time-honored traditions and handmade creations. We study indigenous art and style, and immerse ourselves in the customs of the host country. We make friends with local craftspeople, learning about their process and traditions. Then we bring the world home and translate it into a twirly floral dress, a vibrant graphic tee, a sweet baby romper… We create globally inspired, well-made, beautiful clothing. Every one of our textiles is designed here in our San Francisco headquarters. Using an array of techniques, from sketching to hand carving stamps and even painting on plexiglass, our design team creates our one-of-a-kind prints and patterns, infused with the spirit of the destination. Come on a journey with us to see how a style goes from an idea to a final design.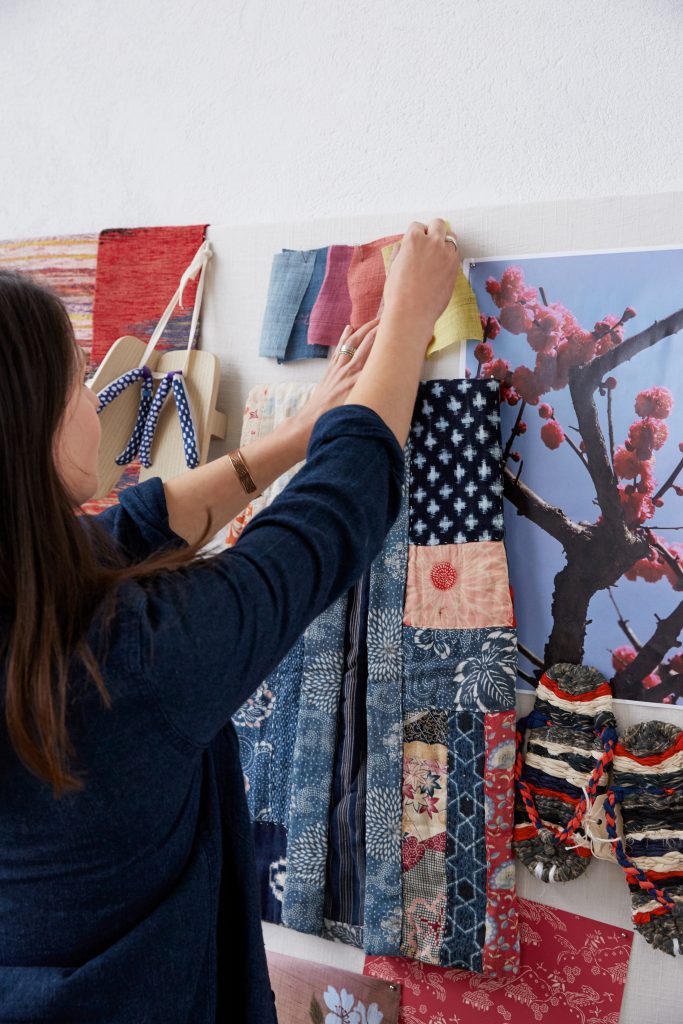 At Tea, product design is a process of discovery. The team goes to every new destination with an open mind, allowing the local culture to guide them. Once the team comes back home, they get to work sketching, designing, prototyping and refining. When our design team traveled to Japan on their inspiration trip, they observed artisans practicing the traditional Japanese technique of patchwork and textile mending. This technique is called boro. In order to preserve clothing and linens, people carefully stitch patches and scraps of different fabrics to mend holes and tears. The patterns and pieces of patches often took on beautiful and artful arrangements, even though they are completely unplanned and created out of necessity.
After many weeks and months spent designing, proto-typing and reviewing samples, our
Boro Sateen Dress
came to life. Take a close look at the print to see the boro technique brought to life!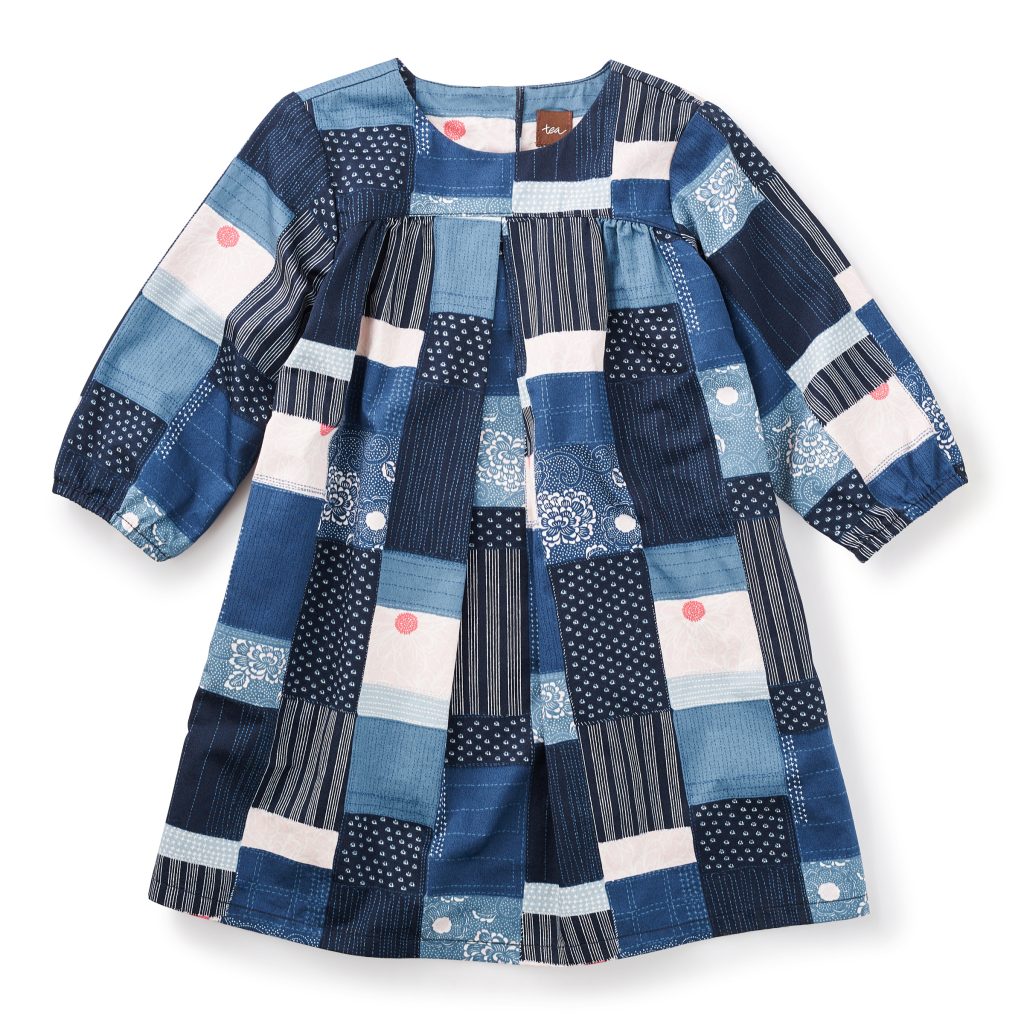 At Studio Tea, our community space in Potrero Hill, we'll inspire local Bay Area families to become makers. We'll host embroidery, sewing and flower arranging classes. We'll bring in Tea designers and artists from the community to teach you how to create something of your very own.
Check out our upcoming classes and RSVP below:
Saturday, 12/3: Japanese Form Paper Peony Making with Papel SF
Sunday, 12/4: Family Embroidery and Pin-making with Threadwritten Textiles
Wednesday, 12/7: Paper Airplanes with Tea Collection's Tyson Wong
Saturday and Sunday, 12/10 & 12/11: Holiday Bazaar with Tea and Other Bay Area Vendors
Tuesday, 12/13: Tea @ Tea and Nesting Days Adult + Baby Meet-Up
Saturday, 12/17: Family Sewing with Jamie Lau: Make a Bag!
Sunday, 12/18: Calendar Making with Maria Schoettler