We are so lucky to live in San Francisco and have many fun, tasty and global treats to explore nearby. The great food truck explosion has hit SF in a big way.
We like to think we were among the first to discover Chairman Bao, the yummy bun truck with a sense of humor. You can find them outside Economy Restaurant Fixtures on 7th and Irwin among other locales. Check their Facebook page for their whereabouts.
The Tea team is partial to the steamed buns, including Chinese Spiced Duck Confit with Mango (Josh is known to get 3) and the Crispy Garlic Tofu. Not to mention pork in all its forms. Get two to three (at least)
Here we are on one of the first days: That's me, Josh and Jen (with Tami behind the camera).
.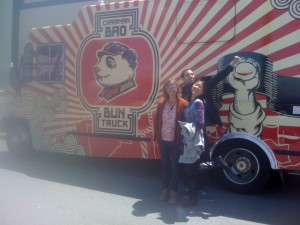 Our other Potrero find is Liba Falafel, now appearing Thursdays in Potrero at 155 De Haro.
Perfect for a sunny day, we love the falafel of course. And you'd be silly to skip the sweet potato fries (with lime!). And her tasting bar is a wonder to behold and explore. (rosemary peanuts, harissa (here's a recipe), olive orange relish, oh my!). That's me again on the left, Josh, Sandra (back from Phoenix) and Jeff. Leigh's behind the lens this time thinking about how she can start her own food truck operation.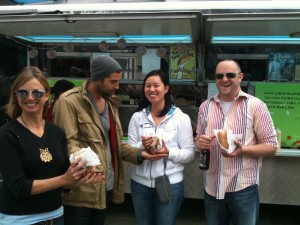 Liba also moves around so check her Facebook page for the latest and greatest. If you know of any new food trucks in the neighborhood, please comment on this post and keep us in the loop. I'll be sharing other favorite neighborhood spots (without wheels too) in the weeks to come. Happy tasting!