To help everyone at Tea "go there," we make a yearly contribution to each employee for international travel and exploration. Upon their return, our Tea travelers write blog posts to share their adventures with all of us (and the world).
Meet Diane (she's pictured below – the one in the middle!), our amazing marketing manager. Today she's sharing her most memorable day from her Peruvian vacation with us on Studio T.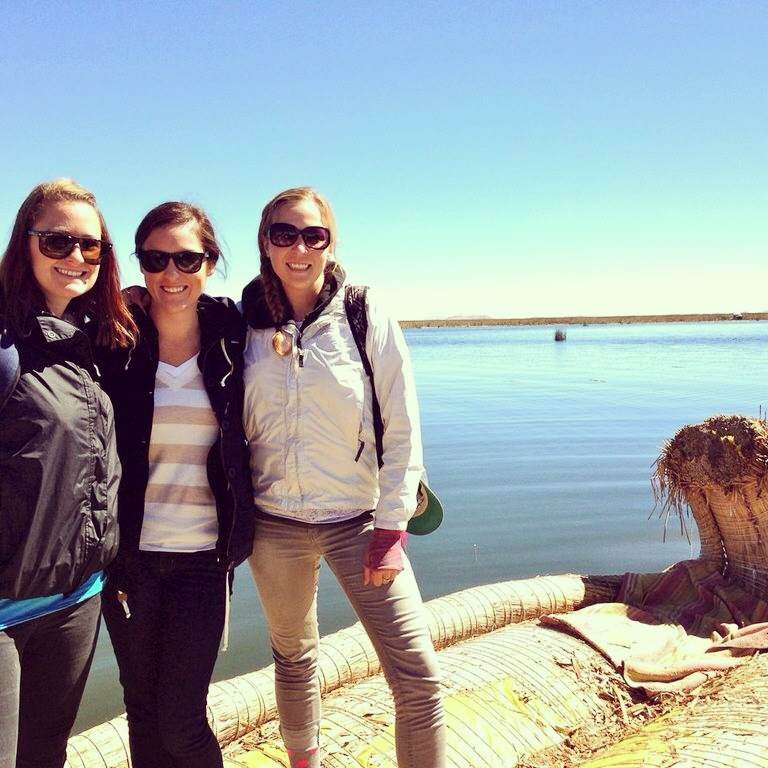 I love traveling abroad because it opens my eyes to new cultures, new people, and new adventures.  I am normally an organizer; my itinerary is methodically planned and set up prior to my departure.   This time, my travel adventure started out a bit reckless for me with a spontaneous invitation from my two friends to join them in Peru.  I thought, "why not?" Sometimes, you just have to dive into life's unexpected opportunities! How could I know that I would get so much more out of it than I could have ever planned for? Here is the story of my most memorable and authentic day in Peru. It began with a bit of intuitive trust and a desire for adventure.
When we arrived at the Puerta (port) at Lake Titicaca at 7am, we had no tour planned, no ferry scheduled, and no time to do the standard overnight tourist stay on one of the lake's popular islands. But, we were hoping to piece together a plan and a boat tour for the day.
We approached the first man we saw on the dock… keep in mind that between the three of us girls, we speak only broken Spanish and certainly no local dialect.  The man was small in stature and seemed to be in his 50's or 60's.  He spoke no English and very little Spanish, so even limited communication in a common language was out of the question. His native language was Quechua – a South American ancestral language of the indigenous people.  With hand gestures and the help of some of his friends, we were able to arrange a day trip to explore Lake Titicaca by boat with this local man whose name is "Victorino."  We were able to discern that he would take us to visit the Floating Uros Islands and Amantani Island. But, that was all we could figure out from the conversation. The rest was going to be an adventure!  So, we put our trust in this weathered but gentle man and we journeyed on.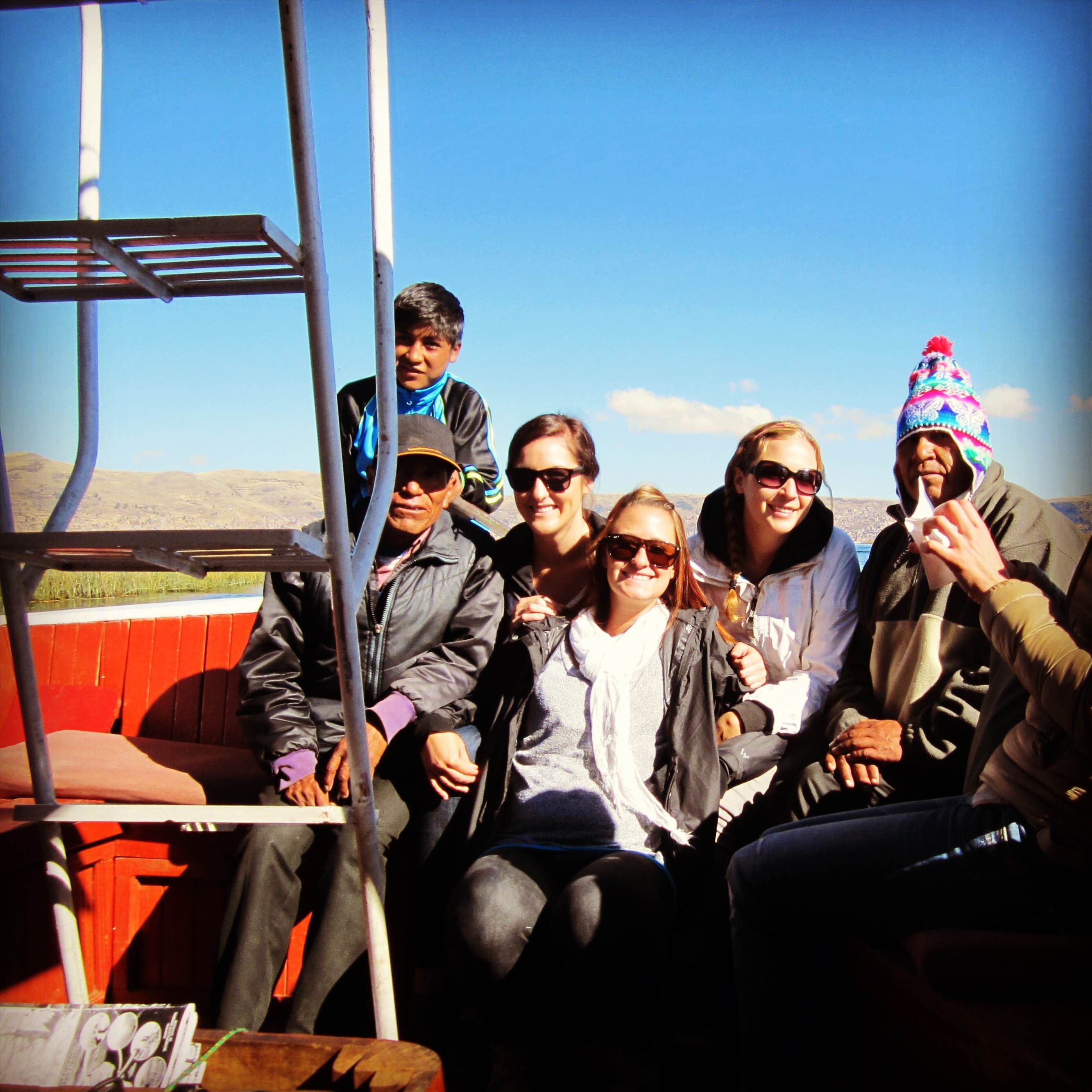 We climbed aboard an old, rickety, double-decker ferry and set off on our adventure. The 3 hour boat ride to the Uros islands was breathtaking.  The water was crystal clear and glass-like, and the snowcapped peaks on the horizon reflected in the water like a mirror.  The sky was the bluest I have ever seen with the contrast of the spotted bright white clouds to intensify the sky blue.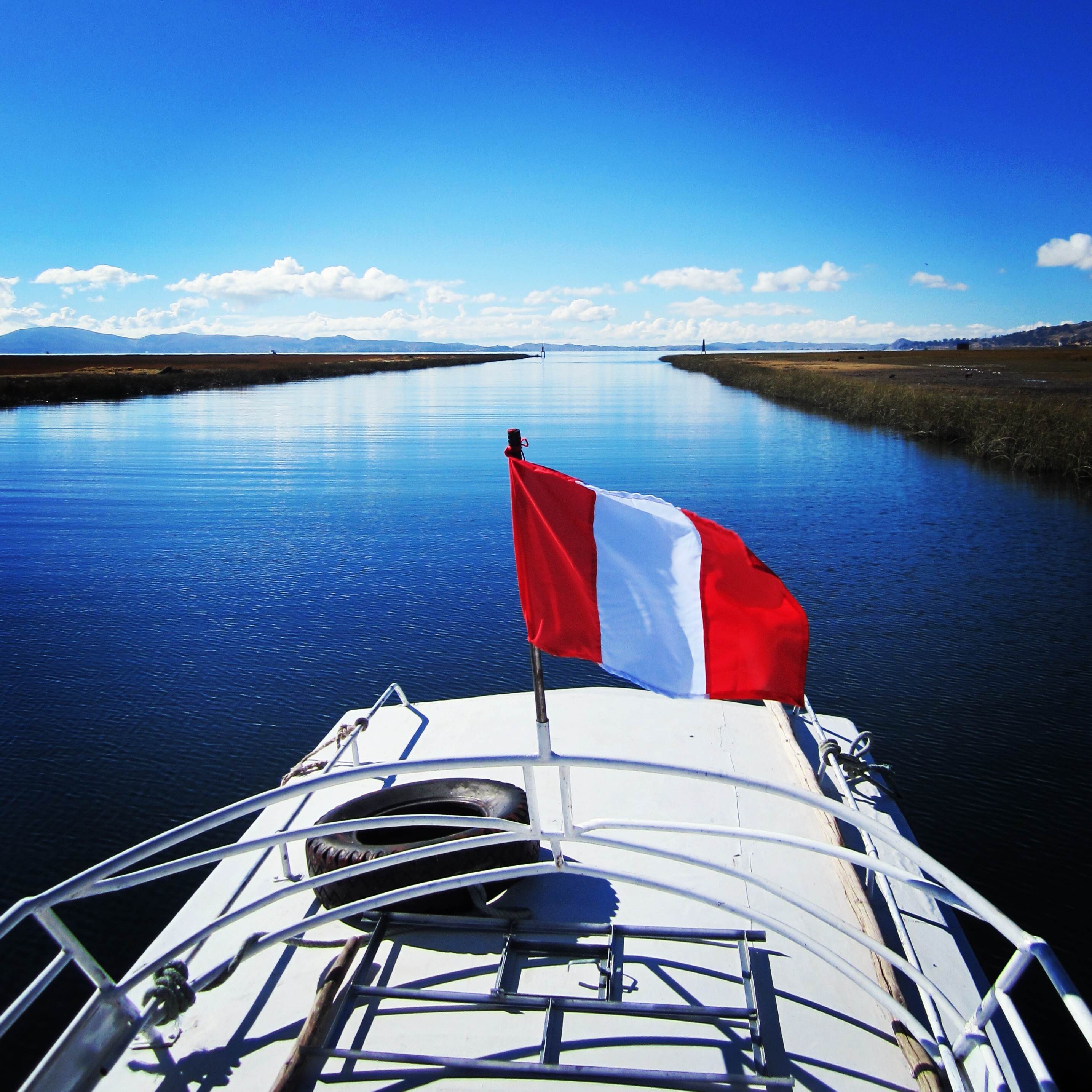 Sweeping views of the 3,200 square mile lake set at 12,000 feet above see level
Victorinio steered us toward the less-explored Uros Islands – the ones that few tourists ever visit.  Here we were able to walk around the floating islands made entirely of reeds.  When I stepped on the surface of the island, the water of the lake squished under my feet like a sponge.  It was like walking on a water bed. It was amazing to think of them floating out in the middle of the lake.  We even took a little ride on a canoe that was made of the reeds.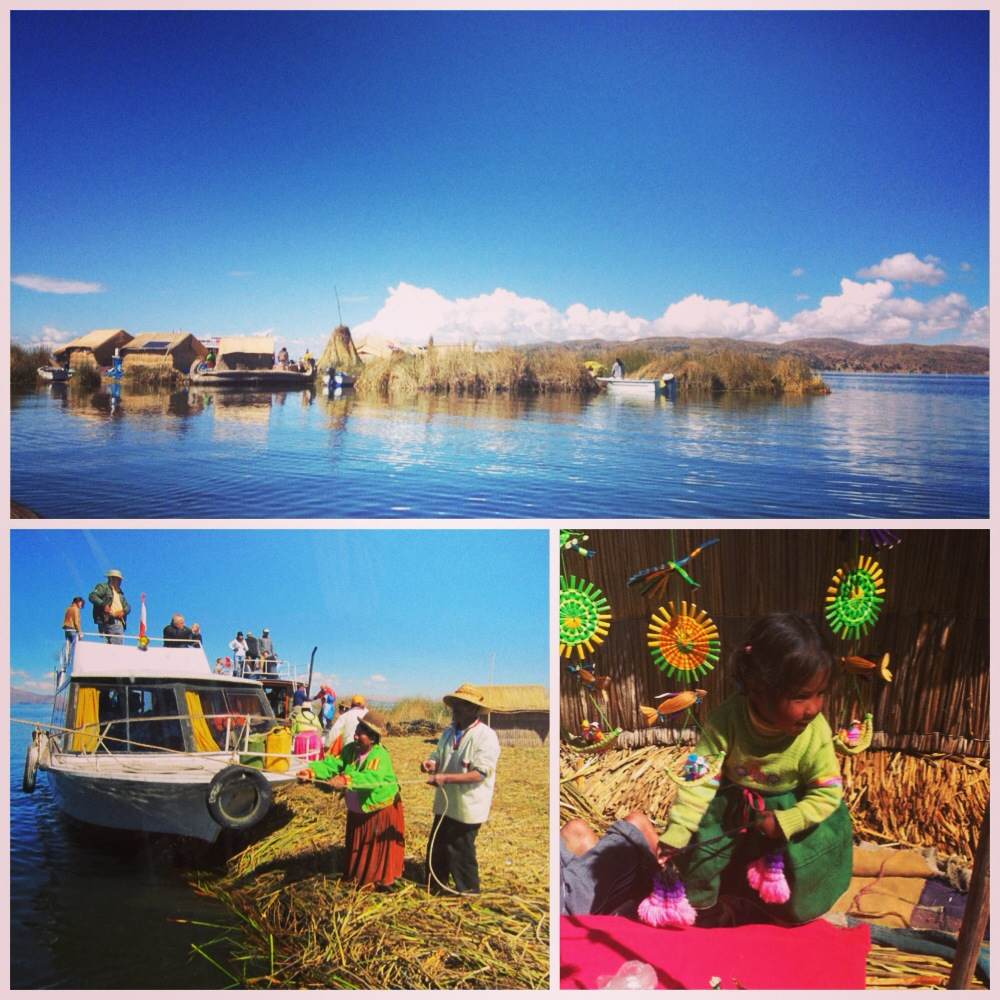 The Uros islands are floating islands made of reeds. The inhabitants of these islands speak Quechua and they make their living selling souvenirs to the few tourists who travel off the beaten path to visit these incredible islands.
The next stop on our tour was to the island of Amantani. The vastness of this island could not be deciphered upon first glance because of the mountainous landscape. When we got off of the boat we hiked up a steep hill – behind us, a panoramic breathtaking view of the lake. We trustingly followed Victorino up cobblestone paths through a tiny village. The people who live here fully sustain themselves with resources found on the islands. It was a walk back into a simpler time. Victorino welcomed us into his own family's home where the walls were made of adobe, and the doorways and ceilings low. One tiny room housed Victorino, his 3 children, his brother in law and his grandson. Such a simple structure with minimal comforts, but with million dollar views of the massive lake.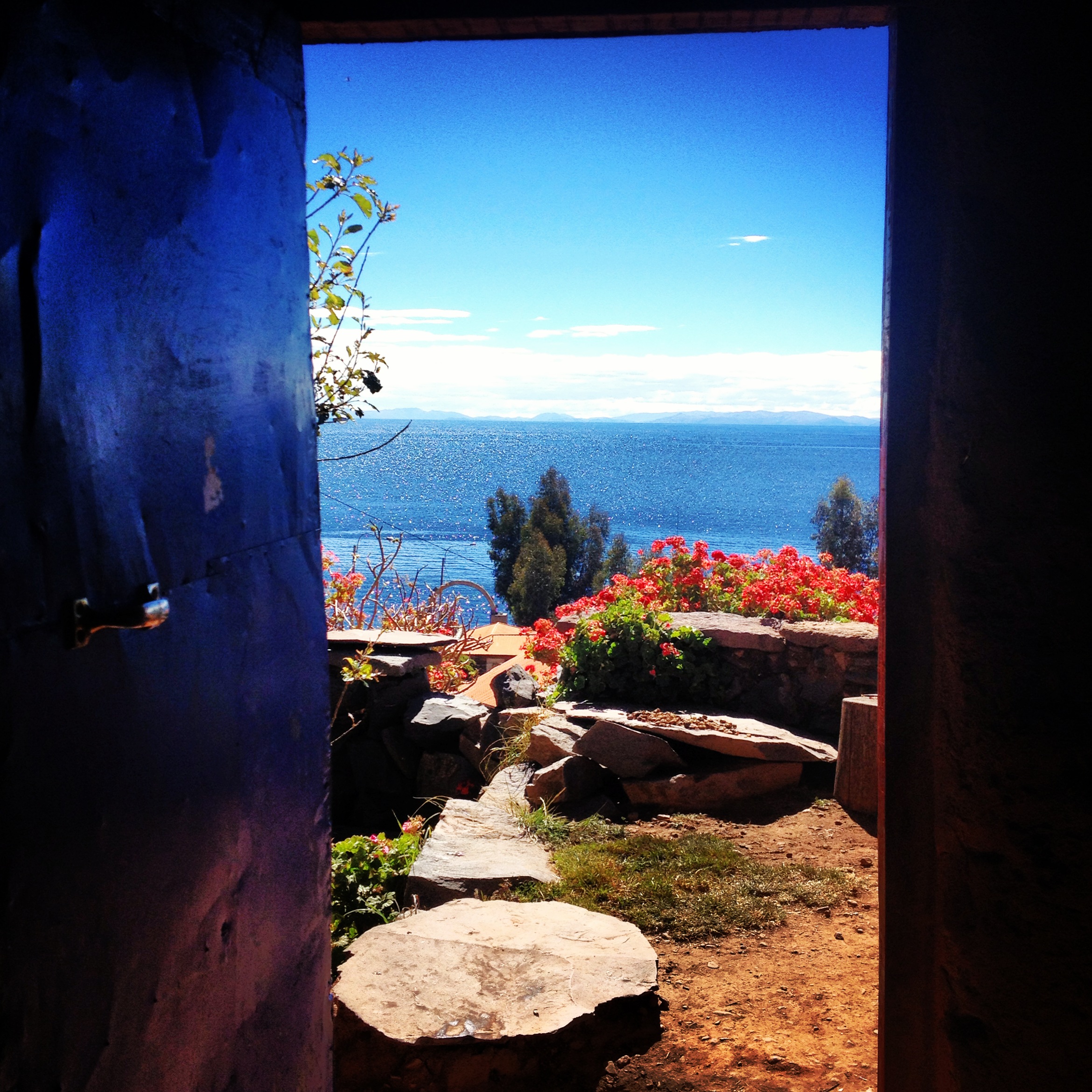 The view from our lunch table.
As house guests, we were seated at the brightly colored table while the rest of the family sat down on a mud bench beside us in the kitchen area. Victorinio's daughter had prepared us a homemade feast – she presented us with a traditional quinoa soup, fried trout, root vegetables, potatoes, cucumbers and coca tea.  The soup was a meal in itself and full of flavor!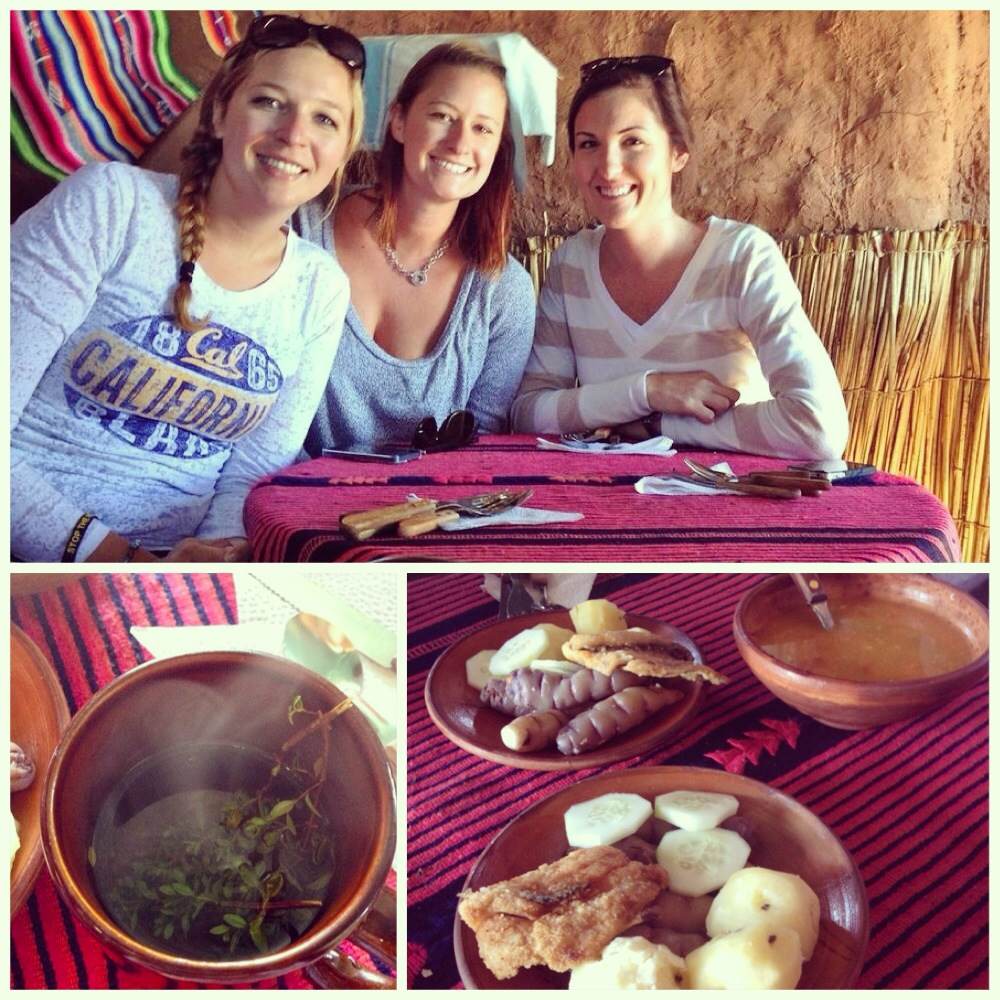 After lunch, Victorino's son showed us around their little village – pointing out the Plaza de Armas, the school, and the quaint homes. We spent the entire afternoon sightseeing and communicating effectively without a common verbal language.
When it was time to leave and head back to the mainland, Victorino sent us off with his son-in-law who escorted us to the ferry. The ferry carried the local people of the Amantani Island to the mainland. We climbed on board, unsure of where we would end up.  We had put our trust in Victorino's family and so we continued on with his son-in-law. When we docked, we looked around and it seemed like we were in the middle of nowhere. By now the sun was on it's way down, and we were a little uneasy about how we were going to get back to our hostel. Within a few minutes, out of what seemingly nowhere, appeared a van that would take us an hour down to the road to Puno, our final destination.  As the bus stopped to pick up locals making their way home from a long day, we imagined we looked a bit out of place with our fair skin and North American features.  We hummed along to the radio with a feeling of pure contentment from the unexpected adventure of the day.
What began as an uncertain, haphazard attempt to tour the islands turned into an unexpected, incredible, authentic, one-of-a-kind, adventure!  It was the most memorable and heartwarming day of our entire trip.  Not only did I have the opportunity to see new cultures and new people, but I experienced the local lifestyle on a personal and intimate level.  Victorino and his family will forever be etched in my heart and mind for taking us under his wing, showing us his corner of the world, and welcoming us into his home.