To help everyone at Tea "go there," we make a yearly contribution to each employee for international travel and exploration. Upon their return, our Tea travelers write blog posts to share their adventures with all of us (and the world).
Meet Tara, she's part of our merchandising team. Today she's sharing a piece of her trip to Spain and the French Riviera with us.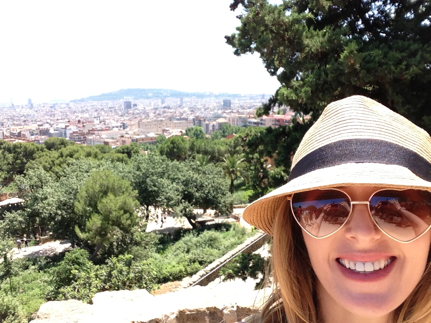 The last couple of years I have made international travel a must – This past summer I visited Spain and the French Riviera!! I started my trip in San Sebastian. It was a cute, beach town in northern part of Spain. The beaches were beautiful, the food amazing and the people know how to party and have a good time. On a Saturday night streets were filled with music, drinking and laugher until 6 in the morning. After getting a taste of the Basque Country, I took a 6-hour train ride, enjoying the breath taking Spanish countryside, down to Barcelona. There was so much to explore in the city. From all the amazing works of Gaudi, great neighborhoods to the beautiful coastline, I definitely will need to go back to see it all. Park Guell and La Sagrada Familia were by far my favorites. At Park Guell I felt transported into a different land with beautiful structures and was able to see the entire city from above. At La Sagrada Familia I stood in awe of the beauty of the light shining through the stain glass and the massive structure. I learned every part had been carefully thought out and designed down to every last detail. So incredible!!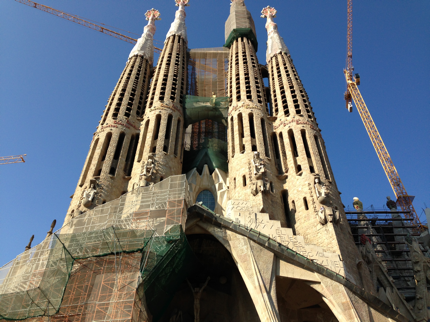 I also enjoyed watching a futbol match, Barcelona vs. Brazil, in a local sports bar. It was interesting to find more Brazil fans than Barcelona in Spain! The energy while watching was unbelievable.  The food continued to be amazing, I was stuffed at every meal! After exploring for a few days, I continued my trip to Cannes, France to experience the French Riviera. It was a great place to end my trip; the last of my days were spent laying on the beach looking out into the Mediterranean, taking a break only to walk the adorable streets filled with shops. I made sure to enjoy a bite to eat at a quant beach café.
My last night there they had the festival of fire works and the sky was filled with light and music filled the air. It was the best firework show I have ever seen! I had so much fun and saw so many wonderful places. I absolutely love to travel and explore new things and I cannot wait until my next adventure!!