Our teenagers have been to a lot of places outside the USA including China, Thailand, Mexico, Portugal, Greece, and Ireland. But somehow, the iconic cities of London and Paris never made the list. For our first trip post pandemic, we finally fixed that.
And let's be honest. The boys were excited about the Eiffel tour and croissants and the Tower of London and fish and chips. But the real draw? Soccer, errr I mean football. So we organized our itinerary around the home match schedules for the Tottenham Spurs and PSG. Really. We are really good parents.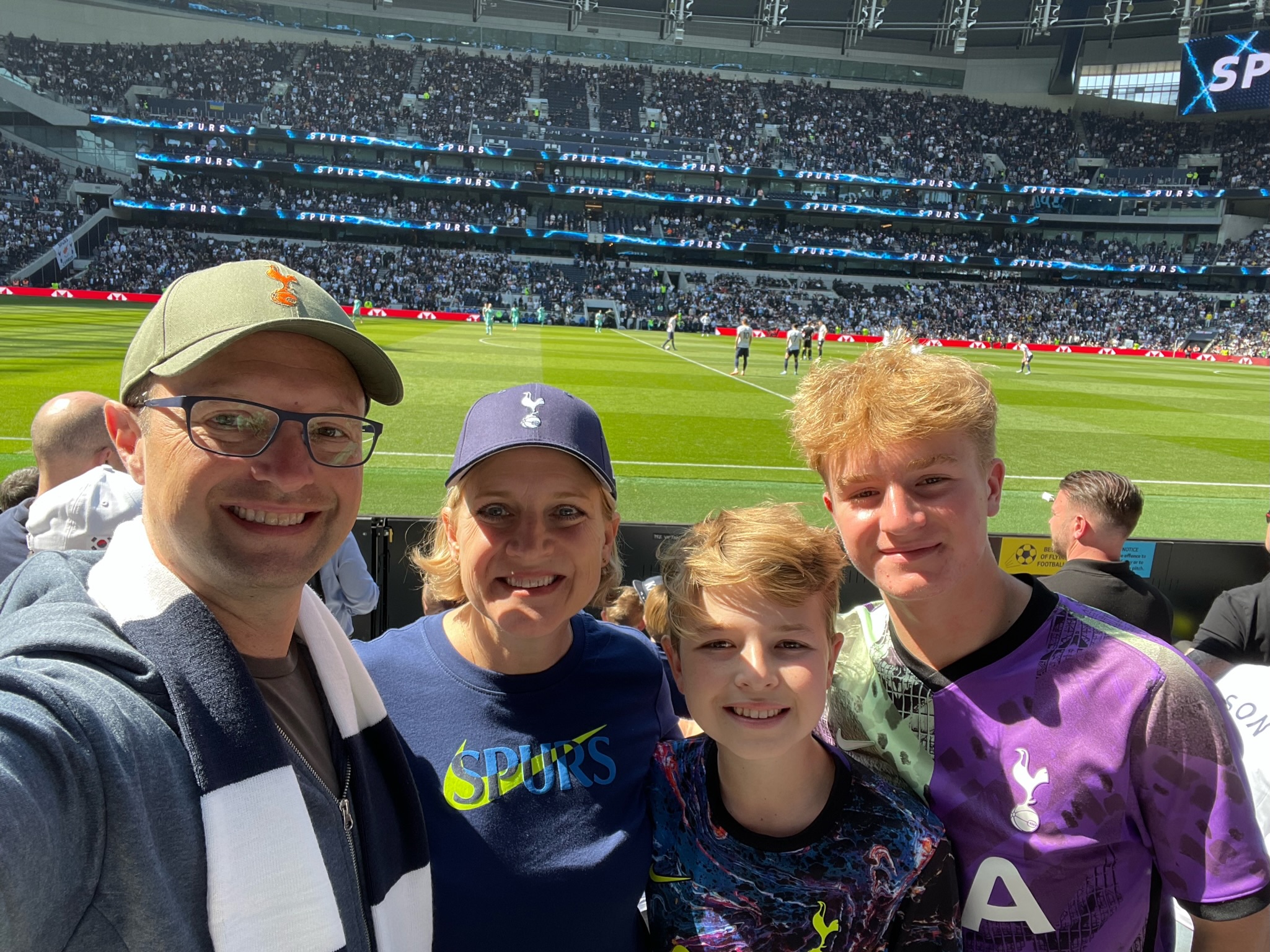 Not only did we save all of our pennies to buy tickets to these two games, but we scheduled a stadium tour on the afternoon we landed, we watched more games in pubs or in our hotels between museum visits, and we found a way for our 15 year old to play pickup games in London with grown men. I was already a Soccer Mom—and for Spring Break, I officially became a Football Mum.
Now a soccer-focused Spring Break certainly isn't for everyone. Here are my tips for everyone else:
Spoilers ahead! Our design trip recently traveled to Paris and had a TikTok with highlights including street style. This really inspired my packing even if I couldn't quite pull off all those scarves and colorful pants. At least I tried. And I saved their shopping spots just in case I could duck into a place or two. They recommended Poulette as their favorite restaurant so we found our way there and it was indeed the perfect balance of delicious and style.
Organized Tours. Before we had kids, my husband and I were happy to wander around with a map and guide book in hand. Now it's a little less romantic because there is a little more "feedback" from the kiddos along with questions about when we will be done. So we spring for a few tours, sprinkled strategically. Kids rise to the occasion and enjoy the professionals who are almost always entertaining. Context Travel has the best tours. But the tours included with admission tickets are great too. For example, the Tower of London is led by a career military servant complete with their ER uniform. The stories keep a massive crowd of all ages hanging on their every word.
Related, but with a bit of activity: my friend recommended an ebike tour in Paris available with Airbnb Experiences. Fabian was our guide and he brought his gift of storytelling to share history as if it was an action adventure movie. Add in the thrill of zipping around cobblestone streets on an ebike and the perfect pastry stop, and we were super sad when it ended.
Speaking of pastries, needless to say we ate and ate and ate. I think I ate more croissants in four days in Paris than I had in the last ten years. Worth. Every. Bite. Best meal in Paris: Les Tables D'Augustin which I happened into on the Michelin site. Small, eco-friendly restaurant for locals. They brought a cook from the back to explain to us our choice (4 courses or 5, wine pairings or not—we went with 5 and YES). The chef brought each course along with his phone where he had a translation app to describe what we would be eating (but in one case it translated les asperges as eel so we weren't sure how much we should trust his app. But we did trust the chef and our taste buds were delighted. (Heads up: if you make the mistake of asking me what we ate, I will tell you. It will make you jealous and it will take a LONG time). My biggest learning with this meal is to find restaurants far away from tourists. It is worth the taxi fare.
Best meal in London: this will come as no surprise because everyone recommends this restaurant. From my BFF to a fellow Oakland soccer mom to my ex-pat friend who lives in Hampstead to my husband's colleagues based in London and my son's college counselor, everyone told us to go to Dishoom. And I didn't even need the tip because I was lucky enough to go to grad school with one of the co-founders and I have been cheering him on for years. The meal will transport you to Bombay with its Irani-Indian flavors and heartfelt stories. Our advice on how to get a table? Use jet lag to your advantage and take a very early or very late reservation. Otherwise, plan to stand in line tortured by the vibrant aromas and sight of so many people inside enjoying life in this beautiful setting.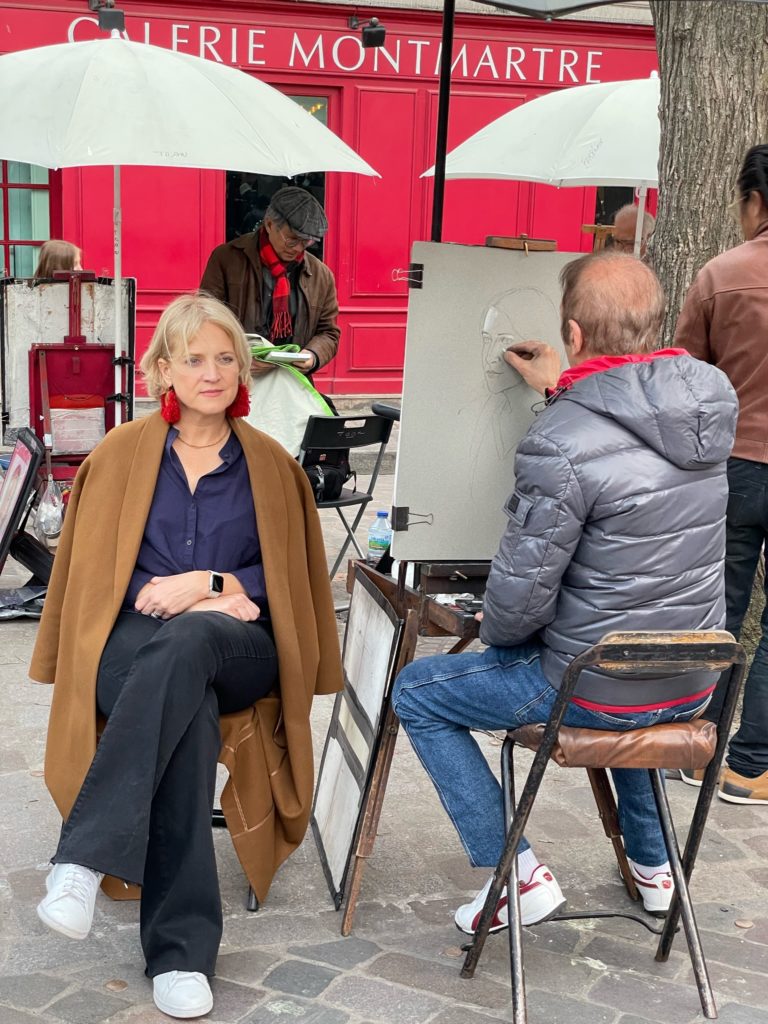 I had never splurged on an artful portrait in Montmartre but my family insisted. So I sat for the French artist straight out of central casting. He had a half smile as I tried not to giggle. I watched my husband and sons out of the corner of my eye as they gave me encouragement that the portrait looked great and as they Laughed over some ridiculous jokes no doubt. Dusk became dark. I didn't dare peek at my watch or phone. Time indeed stood still—I was meditating on the loves of my life before me as they watched my face come to life on the page.
Other tips: Paris didn't seem to have restrictions on the Lime scooters so we took a deep breath and each hopped on a scooter and navigated our way from one place to the next. Something we'll always remember. You don't need an Eiffel Tower tour—but you do need to buy your tickets in advance. Also, walking up isn't hard and is actually pretty fun (but don't worry there still is an elevator to the summit). Jet lag is real but it can be managed. My solution? Strategic melatonin, nuun hydration & immunity packets, and something really exciting to do in the afternoon that you land (this brings us back to soccer: we took the Tottenham stadium tour a few hours after we landed). 
And of course my last and best tip is…. Just go. Kids are growing up so fast. If you can find a way to hit the road, family time is everything. It's going to be a long time before we have 3 meals together every day. The conversation, the stories, the laughter. Being together is everything to me.