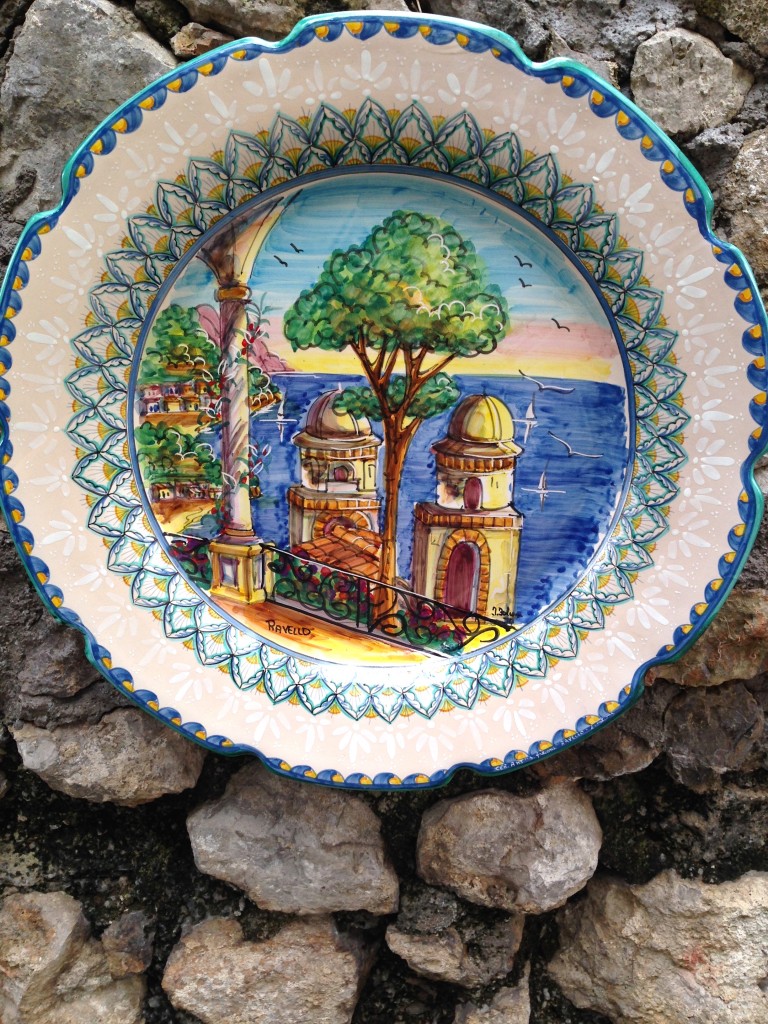 Ceramic pottery, one of the oldest crafts in Italy, dates back to the XV century. From Ravello to Positano and most famously, Vietri Sul Mare, the towns along the Amalfi Coast are known for their intricately designed ceramics. Ceramic pottery is a handicraft tradition, passed down through many generations and perfected along the way. In little alleys, on main streets and even along the water, you'll find ceramic shops everywhere you go. We had a fabulous time popping into all of the shops, meeting their spirited owners, many of whom are third, fourth or fifth generation ceramic shop owners, and hearing their stories. We're sharing our favorite ceramic shops, so make sure to take note in case you find yourself on the Amalfi Coast.
Ceramica Casola Positano
Address: 84017 Positano (SA) – Italy
Ceramica Casola Positano is a family owned business whose goal is to follow their dream of making the houses in Italy and all over the world a little more beautiful. Ceramica Casola features amazing ceramic table tops made out of lava stone, all created in their in-house factory. Their knowledgeable sales people are happy to help you pick out a piece and even will ease your mind about shipping… no matter where the final destination may be!
Milleunaceramica
Address: Via Pietro Capuano 36, 84011 – Amalfi, Italy
Milleunaceramica is a shop filled with hand painted ceramics such as vases, lamps, fountains, platters and much more. The owners love for local art and the expression of the traditional Amalfi pottery led to them opening up this shop. The colors of ceramics you'll find here are mostly blue (the color of the sea), yellow (the color of the sun and lemons), and the copper green color of Vietri. We loved the bohemian feel of the shop. Don't miss the gorgeous entrance which is framed in hand painted ceramic tiles that tell a mythological story.
Ceramica Artistica Solimene
Address: 84109 Vietri Sul Mare – Italy
One look at the awe-inspiring structure of Ceramica Artistica Solimene and you'll know you've arrived at an amazing place. The owner, Vincenzo Solimene, commissioned the architect Paolo Soleri in 1947 to build this amazing structure to house his family ceramics business. Solimene's production of crockery, floor and wall tiles, worked and painted entirely by hand, combine ancient techniques such as the use of a potter's wheel and modern techniques, to guarantee strength and durability of the crockery even when washed in dishwashers! Their mission is to produce classic works combining age old traditions with new colors and styles that are practical and durable as well as ageless. Their high quality product is recognized and admired around the world. Ceramica Artistica Solimene also holds exhibitions and courses for training students in the ancient art of ceramic production. Solimene is a must-see on your Amalfi Coast travels, for the wares but also the architecture and story.
Ceramiche Cosmolena
Address: Via della Marra 15/19, 84010 Ravello, Italy
Website: https://www.ceramichedalena.com
With 45 years of experience in the production and sale of ceramics, owner Margherita di Palma runs this shop with a helpful and curated eye. You'll find a great selection of colors and patterns of crockery and tiles as well as a lovely outdoor patio showing their outdoor collection of table tops, large vases and pots. We loved strolling outside in the sun and looking at all of the intricate hand painted designs. Make sure you have a chance to meet Margherita herself, if shes in that day!
Ceramica d'Arte Carmela
Address: Via dei Rufolo, 16, 84010 Ravello SA, Italy
After browsing multiple ceramic shops, you may feel like you've seen it all. That's not the case when you enter Ceramica d'Arte Carmela. You'll find designs and patterns unique to the shop and everything from picture frames to ceramic animals. While the shop inside is filled with treasures, make sure you check out the outdoor walls filled with unique platters with designs that look nearly 3-D!
If you can't make the trip, check out each store's website. Many shops ship internationally all of the time and are willing to help select your ceramics!