Photo by Yid Whellans
Meet Kristen Turner, our latest Foreign Correspondent, who just returned from a family trip to Scotland where she, her husband, and their adorable daughter Ava spent three weeks visiting her husband's family in the small town of Duns. Follow along as Kristen shares all about their traditional Scottish holiday and Hogmanay celebrations!
---
New Year's Eve is referred to as 'Hogmanay' or 'Auld Year's Night' in Scotland. This year we were visiting our family in Duns, Scotland for the festive period. Duns is a small town in the Scottish Borders about an hour's drive south of Edinburgh. Nestled in the Tweed Valley, Duns always has a warm welcome for visitors.
This year's trip back to Scotland was a chance for our daughter to experience a traditional Scottish Hogmanay.
Leading up to Hogmanay, a long-standing tradition in our family is to attend a pantomime. A pantomime, or 'panto' is a unique form of theatrical entertainment (mainly for children) that involves music, topical jokes, and slapstick humor, usually based on a well-known fairy tale or nursery rhyme. The kids in the audience love to participate by yelling 'boo' to the villain, while cheering on the hero of the story. They also enjoy singing along to the songs.
The panto we attended this year was "The Adventures of Sinbad", at The Maltings Theatre in Berwick. One of the principal actors is a family friend, so Ava had the exciting chance to meet the cast after the show.
Hogmanay wouldn't be the same without a traditional dinner of 'Haggis, Neeps & Tatties.' Always a favorite, Haggis is like a savory sausage made with lamb, onion, oatmeal and spices. Often misunderstood, Haggis is incredibly tasty and moist, and typically wins over most doubters at first sampling. Usually paired with Neeps and Tatties (mashed turnips and potatoes), most Scots consider it as soul food. This trip, Ava had her first taste of Haggis and thoroughly enjoyed it.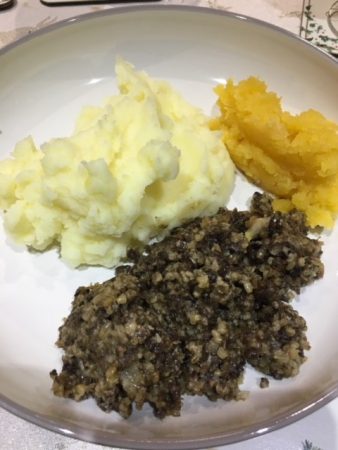 The skepticism around Haggis has to do with an old Scottish myth that the Haggis was once a wild animal that roamed the mountains and glens of the Scottish Highlands. It was rumored to be a three-legged animal, with one leg shorter than the others, so that it could run around the bottom of mountains without falling over. Like all myths, no one really knows if it's true or not (only Nessie knows for sure).
After the bells strike midnight on Hogmanay and the fireworks have faded, it's tradition to link arms and sing "Auld Lang Syne". Derived from a poem by the famous Scottish playwright, Robert Burns, "Auld Lang Syne" has become synonymous all over the world as a way of saying 'farewell' to the old year and 'welcome' to the new.
Should old acquaintance be forgot,
And never brought to mind?
Should old acquaintance be forgot,
And old lang syne?
"Auld Lang Syne" roughly translates to 'for old times' sake', and the song is about reflecting on the previous year, preserving relationships and friendships, and looking forward with optimism—a sentiment that is central to Scottish culture.
Another long-celebrated Hogmanay tradition is that of 'First Footing'—to be first person to set foot in a house at the start of the new year. In years past, at the start of the new year, the people of Scotland would open their doors to friends both old and new as a gesture of community, friendship and prosperity. First Footers would traditionally bring small gifts such as shortbread, coins, whiskey or coal. However, in modern times, it's more common to bring food or drink.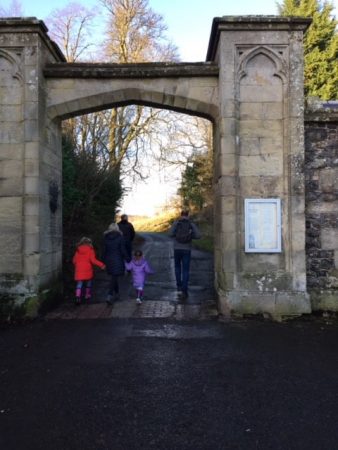 After celebrating Hogmanay and First Footing on New Year's Day, our family always takes a brisk walk up Duns Law—a hill with commanding views over Duns Castle, the town, and surrounding area.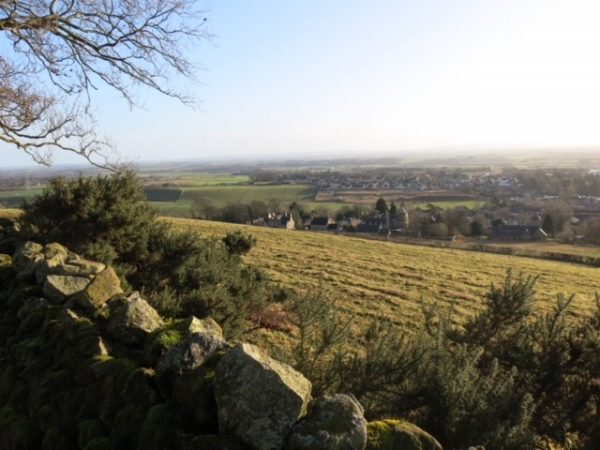 Duns Law ('Law' is an old Scottish word for 'hill') was the site of the original settlement that became modern day Duns and dates back to the 16th century. Situated near the border with England, Duns and the Border region was located at the center of the storied history between the ancient kingdoms of England and Scotland many centuries ago. For years, in order to feed their families, men from Duns would join groups of raiders sent over the border to recapture cattle stolen by the English. The raiders or, 'Reivers' as they were called, are still celebrated each year in Duns at the annual Summer Festival called Reiver's Week.  The celebrations include parades, sports and bagpipes, all culminating in 'The Ride Out'—a mass horse ride across the hills and moors at full gallop in tribute to the Reivers.
The Reiver's Week summer festival will be a tradition for Ava to enjoy in future visits to Duns, but this year she loved celebrating Hogmanay with her Scottish family and big cousin Erin. It was a chance to connect to her roots and learn more about her Scottish heritage.
Photo by Yid Whellans