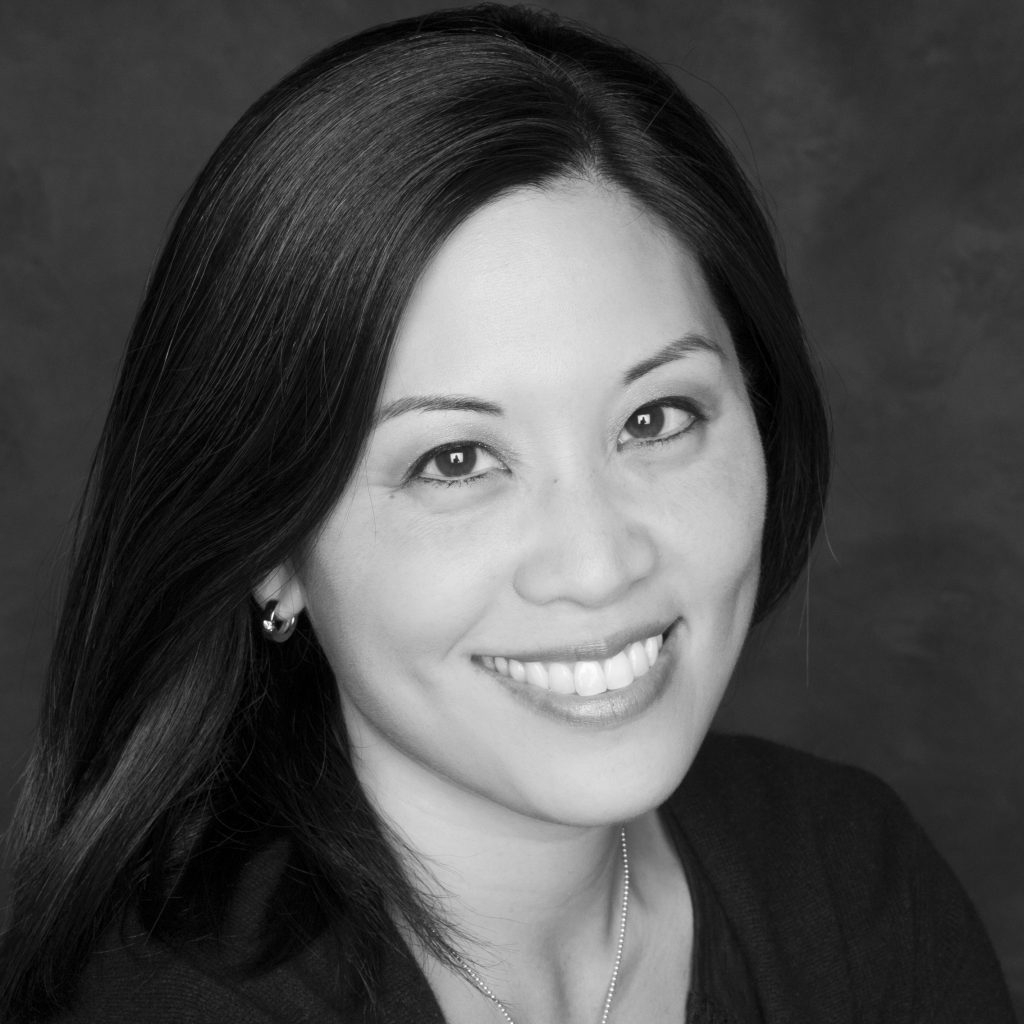 We love meeting new people and learning about their families. At the launch of our Studio Tea space, we had the pleasure of meeting Amy Kimoto-Kahn, mom, wife, cook, traveler and author of the cook book Simply Ramen + the blog easypeasyjapanesey. Amy is a lovely woman who has a successful and interesting life raising three little ones and sharing Japanese-American recipes via her blog and cookbook, among other things! It's no secret that we're huge fans of ramen (any noodle really) so we were thrilled to flip through her cook book. Read on to see our recent interview with Amy and get her recipe for mochi!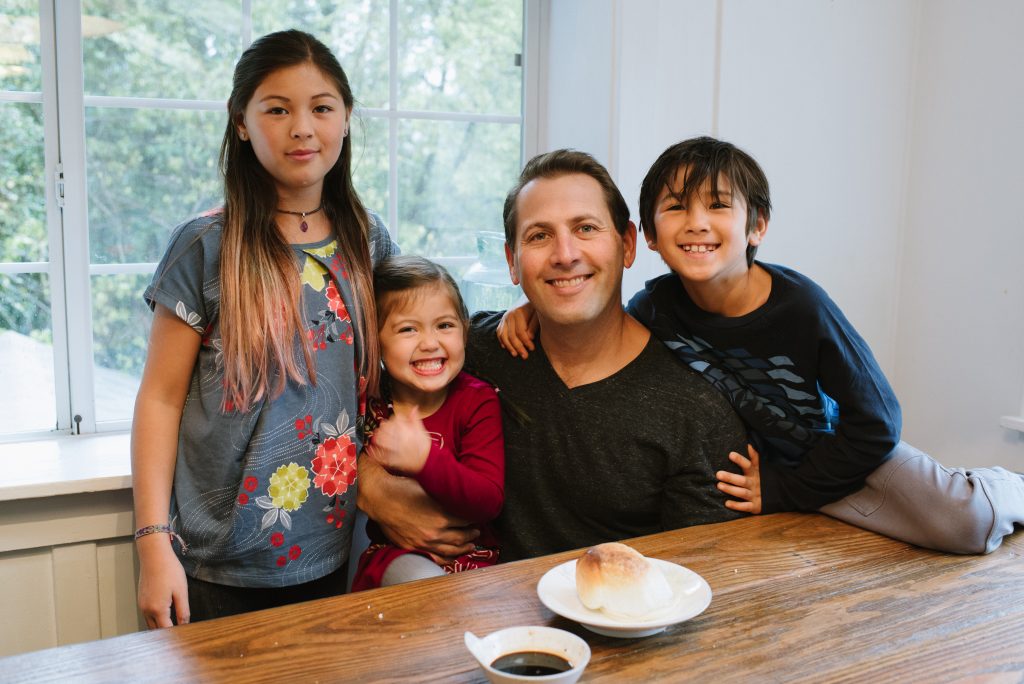 Tell us about yourself and your family.
I'm a wife to my husband Dave and we are parents of 3 noodle lovin' kids, Maggie (10 yrs), Ryan (8 yrs) and Ellie (4 yrs). We live in Mill Valley in Marin County and spend most of our free time trying to keep up with their schedules while life whizzes by! One thing we make time for is cooking and eating a family meal almost every night. I've extended my passion for cooking by authoring a blog – easypeasyjapanesey and a cookbook entitled "Simply Ramen" – a compilation of 70 traditional and non-traditional ramen recipes for other fellow noodle lovers.
Have you always loved to cook? When did you begin to turn it into a career?
Ever since I was little I would pretend I had my own cooking show and make mud pies covered with flowers in our backyard. I just continued this love of cooking into the real kitchen and from a pretty young age my mom would let me help her. She taught me how to use a knife (and not chop your fingers off), how to wash and cook rice and how to roast nori (Japanese seaweed) over the gas stove. The best lesson she taught me that I'm sure I complained about, was to clean as you go. I turned cooking into a career when I started writing my blog. It was really just a hobby to share our family favorite recipes with friends and it seemed like since I was cooking anyways, why not just write about it. I eventually found my editor, Laurel Leigh and she introduced me to a wonderful book packager, Leslie Jonath with Connected Dots Media. They took me under their wing as a first timer and helped me find my publisher at Race Point.
You are a graduate of the Miyajima Ramen School in Osaka, Japan. How did you decide to take this course?
While doing research for the book, I was in communication with a very well-known ramen blogger in Tokyo, Brian MacDuckston, with Ramen Adventures. He told me about the Miyajima Ramen School in Osaka so I decided to go. I thought that I really needed to learn how to make ramen from an expert ramen master in order to do it right and give legitimacy to my cookbook. I was also excited to learn how the home cook could make ramen in smaller batches and find ingredients that are more accessible here in the U.S.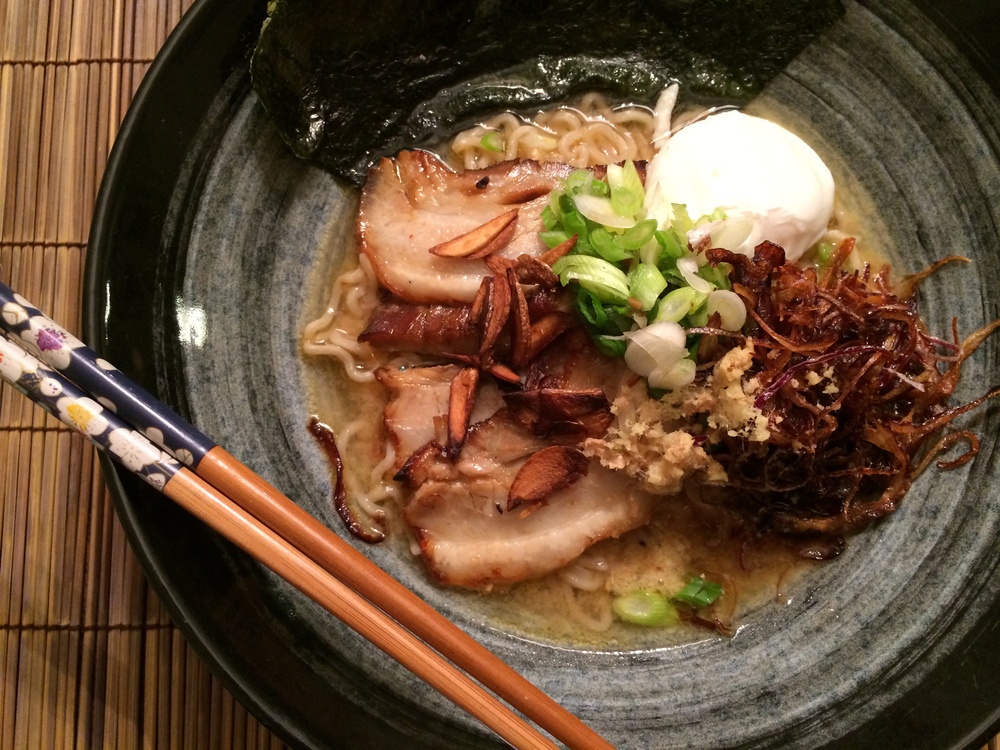 We loved your post on doing a Ramen Tour in Tokyo. What are your favorite places to visit when you are in Japan?
My favorite places are outlined in detail on my blog, but I will say my top two favorites in Tokyo are LaShowHan and Mensho Tokyo. At LaShowHan you can find the best tantanmen – a Japanese adaptation of a Szechuan-style spicey noodle dish known as dan dan noodles. Master Okada-San serves it mazemen-style (or without soup), so the spices and the sauce are perfectly balanced and folded into every bite. At Mensho Tokyo, Master Shono-san's style is very unique and he always introduces something different to the traditional bowl. He has a Tonkotsu ramen that is cooked from both pork and lamb bones and his chashu is made with lamb instead of pork. He has a signature spice mix made from ground cinnamon, cumin and fennel seeds to sprinkle on top that really puts it over the top. PLUS, he has a place in San Francisco now that is truly the best in the area!
Food is a big part of life and culture around the world. Tell us about your favorite dish, favorite thing to make, favorite restaurant? Or a unique food experience you've had?
My favorite dish to eat is my Mom's Crispy Teriyaki Wings. She makes them every year on New Year's Day and they involve deep frying lots of chicken wings for hours, which is also why I like to eat but not make them! They have a light flour based batter and are immediately dunked in boiling homemade teriyaki sauce, then cooled on racks making sure that they don't touch each other to maintain their crispy deliciousness. They stay crunchy for hours, are just as good eaten hot or room temperature and you cannot have just 1 or 5 or 10. You need to eat as many as you can before they run out and there is no guilt because she only makes them once a year. New Year's Day can't come soon enough!
My favorite thing to make is probably my comfort food dinner go-to meal for my family: Chicken Katsu, steamed rice and broccoli. It's easy, it makes me think of home and everyone always loves it no matter who I cook it for. My favorite restaurant at the moment is Village Sake in Fairfax, CA. It's a fairly new Japanese pub style restaurant that never disappoints. Super high quality sushi at not astronomical prices, a creative menu that changes with the season, great desserts and a cool casual vibe. The most unique food experience I've had by far was eating at Heston Lumenthal's, The Fat Duck in Bray, UK. We were living in London at the time and my husband and I decided we would treat ourselves to one final kid free meal before we ventured down the parent path. I was just about to pop with my daughter Maggie and in fact, went into labor at about 6:00 AM the morning after our dinner. We had parsnip cereal, a nitrous foam shot to clear our palate in between courses and since there was a breakfast theme to the meal, we ended with smoked bacon and egg ice cream. Truly a thrilling and multi-sensory experience—one of the best meals we will ever eat.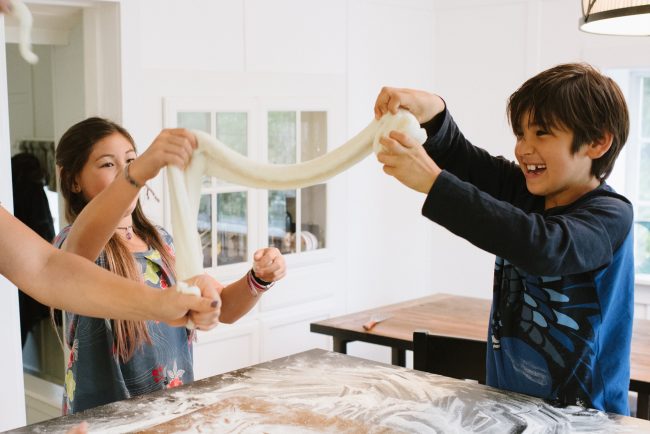 How do you bring the world into your home or help your children understand other cultures?
I'd say that we try our best to bring the world into our home through food. I do cook Japanese food often but we've also tried everything from Lebanese to Burmese. Having San Francisco nearby also provides so many options for excellent and authentic International food. We lived in London for 3 years until our oldest kids were 2 years and 2 months old and it was very easy and reasonable to visit other countries. Now that we are back in the U.S., it's more difficult to travel, especially with 3—so we try to go to different festivals in the Bay Area to help them learn about different cultural celebrations like Dia de los Muertos or the Cherry Blossom and Obon Festivals and luckily we go to a school that does a great job teaching them about customs around the world. In 1 st grade, they have a wonderful Immigration play where they can learn about each other's heritages. We used to subscribe to Little Passports, a company that would send us souvenirs and hands on activities about a different country every month. As they've gotten older, it's been more about reading interesting books on different countries and talking about where they'd like to go and visit. I know that Japan is on the top of our list to visit as a family because my experience there was so wonderful and I'd love to show them the country of their ancestors. I know we can do more, it's just making the time to do it!
How do you help get your kids involved with cooking?
I try to help them understand that cooking is a process—meals don't just show up on the table and plates don't clean themselves. I'll have them go with me to the grocery store or farmers market to pick out things they might like, I let them help decide what we should eat for dinner so they are encouraged to help prepare it and they all help to set and clear the table. Since their ages range, I'll let Maggie do more chopping and cutting, Ryan can de-stem kale, peel carrots and core lettuce like a pro and my youngest Ellie loves to pour and stir and squish things with her hands. They're still kids so they have their favorite foods that they wouldn't mind eating every night but they also will try anything and sometimes surprise themselves when they end up liking it.
Tell us about the tradition of making mochi. How did the tradition of making mochi come to be in your household?
Mochitsuke is a traditional mochi pounding ceremony in Japan where people gather to celebrate the New Year. In Japan on New Year's, mochi is used in ozoni soup – a good luck soup made from a rich dashi broth that normally includes kamaboko (a pink rimmed fish cake), daikon, carrot, shitake mushrooms and a delicate floating puff of baked mochi. In our family, we sometimes have ozoni soup but most of the time, we just eat mochi on it's own. We broil it to perfection until it's light, puffy and toasty brown and we dip it in a soy sauce and sugar mixture. We rely on a fancy shmancy mochi maker that pounds the rice for you and makes it's easy enough for all my siblings and our kids to join in and help. It's one of our kids favorite things to do on New Year's with their cousins.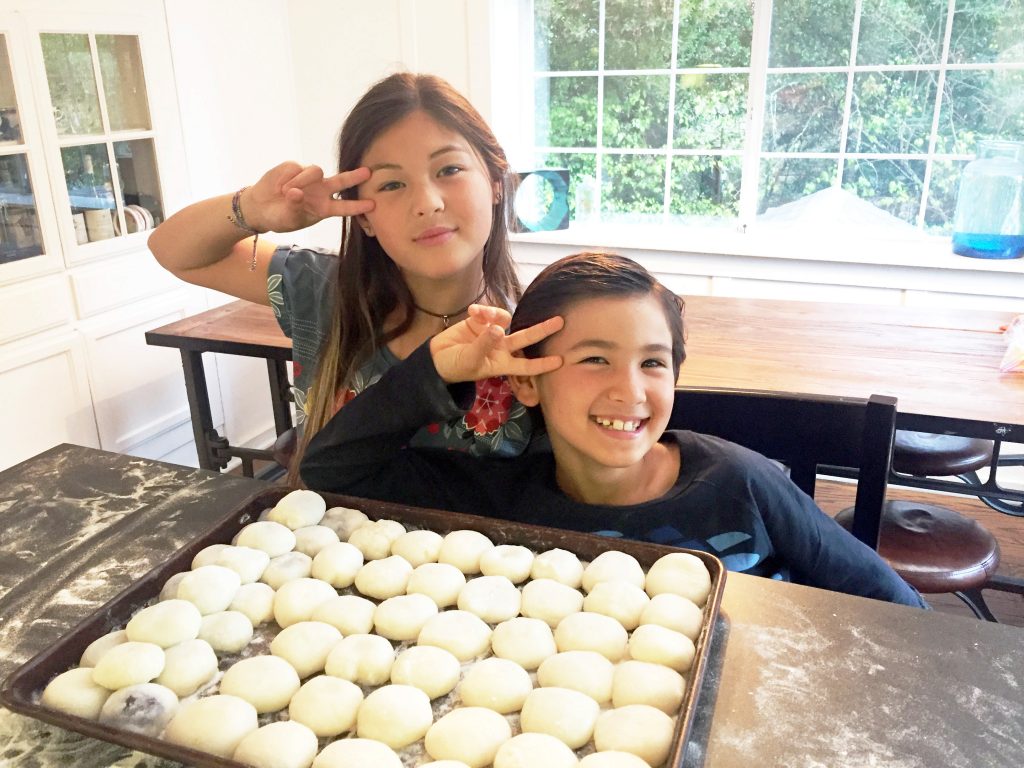 How do you incorporate your heritage and traditions into your children's lives?
My husband is German, Polish and Jewish and I'm a Yonsei (Fourth Generation Japanese-American) and a Christian so we've got quite a cultural mix in our family. From an early age, we've incorporated Japanese and Jewish foods into our kids diets. They've eaten "hot tea rice" from the age of 6 months and they all love nori (Japanese seaweed) wrapped around almost anything. My son's favorite soup is Matzo Ball soup and I've even incorporated the technique of making a fluffy matzo ball into one of my ramen recipes. Our mealtimes give them memories of the different smells and tastes of their culture and hopefully will show them how important heritage and traditions are no matter what generation. The holidays are when we teach them more about our religions and we have open conversations for them to ask us questions without feeling like one is right or wrong.
What was your most memorable family vacation, trip or adventure? Could be a small local trip to a huge excursion. What made it so special?
Our most memorable family vacation was probably going to Hawaii this last Summer. My grandmother used to work in the sugar cane fields and grew up in Waialea so I've always felt like Hawaii was a place I wanted to explore more. Also, many Hawaiian foods have Japanese influence so eating in Hawaii was comfort food for all of us and we could always find inexpensive local food that pleased us all. It was special because we all shared one room – we would go to bed and wake up together without all of our busy schedules making us go in different directions.
You can follow along on Amy's culinary adventures via her blog and Facebook.
Photography by Andi Hatch. Follow her on Facebook and Instagram.
In a large bowl, rinse and carefully drain 8 cups of mochigome rice multiple times until the water runs clear.

Cover with water and leave to soak for a minimum of 6 hours, to a day.

Drain the water out of the soaking rice, shaking to remove any excess water and let it sit to completely drain for 15 minutes. It's better to use a wooden sieve or metal colander vs. a plastic one.

Follow the instructions on your mochi maker and add two cups of water to the reserve area beneath the mochi maker bowl. Attach the bowl and stirring mechanism.

Add the thoroughly drained rice to the mochi maker bowl and even out the top so it's flat. Make sure the cover attachment is locked.

Set your machine on steam. It will automatically go to pound mode when it is ready and the grains of rice can be smashed with your finger.

Watch as the mochigome turns into a glutinous mass when it's pounding. When finished, turn out the big ball of pounded rice onto a table that has been sprinkled with mochiko (rice flour) to avoid sticking.

Very quickly, start forming the mochi into little patties by pinching off a small mound with your thumb and index finger.

You can add anko (sweet red bean paste) in the center for a special treat.

When you are ready to eat your mochi, preheat your toaster oven or oven to broil. Make a dipping sauce made up of 3/4 cup of sugar and 1/4 cup of soy sauce mixed together.

On a tray lined with tin foil and sprayed with cooking spray, line up your mochi in rows so that you have at least in inch in between them. As they puff up, this prevents them from sticking to each other.

Cook until the mochi puffs up and gets toasty brown on the top. Do not be surprised if the mochi patties double in size and start melding into each other. You can always pull them apart later. Enjoy!