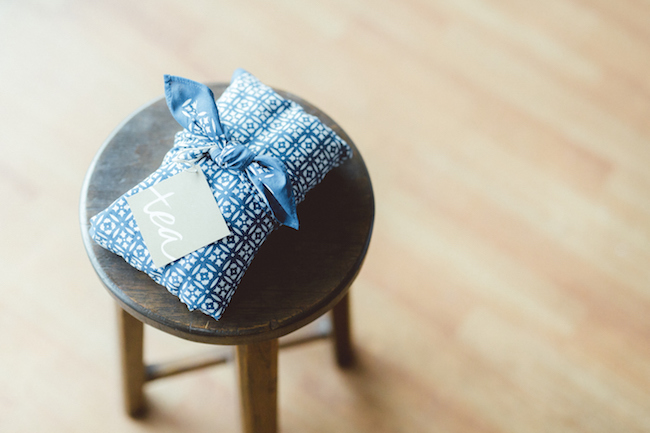 We travel all over the world for inspiration, and we always find such unique beauty each culture. Long ago in Japan, we fell in love with furoshiki ("foo-roe-sh-kee")—a traditional wrapping cloth used to carry gifts or clothing. Modern Furoshiki can be made from a variety of fabrics and colors. After years of our furoshiki only available in Tea's signature brown, we're so excited to announce that you will now find the cloth in three new colors — navy, light blue and red! We love furoshiki as an elegant, versatile and earth-friendly way to wrap or transport a gift. It can even be re-used as a scarf, a kerchief, a headband, a cape!
Have you ever thought about wrapping gifts in something other than paper? During the winter holidays, 4 million tons of wrapping paper and shopping bags are thrown away. Wrap your gifts the eco-friendly way with our signature Furoshiki Gift Wrap, inspired by the artful Japanese tradition of wrapping gifts in beautiful swaths of cloth. Your giftee can re-use and re-purpose the cloth gift wrap any time of year. Read on to learn how to wrap your presents 5 different ways (in all shapes in sizes!).

Have a board game, legos or a shoebox to wrap? Otsukai Tsutsumi, or the basic carry wrap, is your go-to style. It also is one of the easiest ways to fold your Furoshiki. Simply place your box in the middle of your fabric with the long side ends of your box matching up to a triangle of the fabric. Fold in one triangle edge, then its opposite side. Pick up the two remaining edges and tie them into a bow.

This is a different take on your Otsukai Tsutsumi wrap, and it also works well for anything square or rectangular. Follow the same directions but at the very end, tuck in both ends of your bow. This gives your finished package a sleeker look – and can be a great wrap option for party gifts, gifts for adults or co-workers.

Many of us will be giving, and receiving, bottles of wines and spirits during the holidays. Or maybe you're a DIYer and you've made your own limoncello or homemade bubble bath. If you have a bottle of any type — this one is perfect for you, the Bin Tsutsumi. Simply place your bottle standing up in the center of your fabric. Lift two opposite triangle corners up over the top of the bottle, twisting the ends and tie. Take the remaining corners, bringing them together in front of the bottle, one corner wrapping on top of the other and wrap around the bottle and tie.

Gifting candlesticks? A small poster, a watch or bath salts? Wrap anything long and thin in a Entou Tsutsumi wrap. This version is easy – a great one to get your kids involved. Simply lay you fabric out flat, and place the object at the beginning of one corner. Roll the fabric and the object together so that at the end, it is completely covered. Take the two end corners and wrap them down the length of the object, tying them together in the front.

Books makes great gifts, but wrapped in regular wrapping paper, their identity will be easily given away. Wrap them in the Hon Tsutsumi Furoshiki technique. Place your two objects on opposite corners of your fabric, folding the triangle inwards.  Then, fold the books inwards again so they are touching, but wrapped in the fabric. Take the two opposite corners and wrap them inwards, into the space between the two books. Flip the package over, twirl the ends together and tie. You can also use the bow to carry them!
Furoshiki video from tea collection on Vimeo.