The US is home to people of many cultures, identities, and walks of life. Some of us are here because generations ago our great grandparents and great, great grandparents left their home countries and set sail to a new land filled with promise of hope and opportunity. Others emigrated more recently. And then there are those whose ancestry traces back to the first people to call the US their home.
Our 2018 collection embarks on a journey across America, exploring its kaleidoscope of cultures and celebrating the communities that make each region so unique. Honoring America's first cultures, this season, we collaborated with indigenous artists all over the country to create original art that's true to tribal tradition and designed to inspire curiosity.
Learn more about the inspiration behind our exclusive Native Artists x Tea Collection designs.
Hopi 
Designed in collaboration with Native folk artist, Gregory Lomayesva, these one-of-a-kind graphic tees pay homage to the traditional stories of his Hopi heritage. The Singing Butterfly Girl is a powerful Hopi warrior spirit known for saving her village. Also a warrior in the eyes of the Hopi people, The Hopi Bear is looked to as a good omen.
Meet Gregory Lomayesva, and get to know the life of the artist behind these exclusive looks.
Shawnee-Seminole
Designed in collaboration with Absentee Shawnee-Seminole painter Benjamin Harjo Jr., these one-of-a-kind graphic tees paint the traditional stories of his Seminole and Shawnee heritage. Turn them around to reveal their legendary tales.
Featured on the left is the Seminole Thunder Bird, ruler of the sky, said to protect the Shawnee people by throwing lightning bolts. Perched in the center is the parrot with its colorful plumage—a gorgeous creature believed by the Maya to be born from the sun. Then, decked in vibrant geometric patterns, we have the Thunder Bringer, who long ago carried the earth and first Seminole people on his back.
Meet Benjamin Harjo Jr., the artist behind these inspired designs.
Also of Seminole heritage, Native artist Jessica Osceola grew up learning to sew her tribe's traditional patchwork by way of her grandmother. We worked with Jessica to adapt classic Seminole patterns into a bold playtime spirit.
Meet Jessica Osceola and hear her story.
Cherokee
Cherokee artist Martha Berry's Southeastern Woodlands beadwork inspired colorful embroidery and a fire-wielding female water spider. Risking great danger, legend has it that the water spider carried a tiny coal on her back, bringing fire to the Cherokee people.
Meet Martha Berry and hear her story.
Pueblo Pottery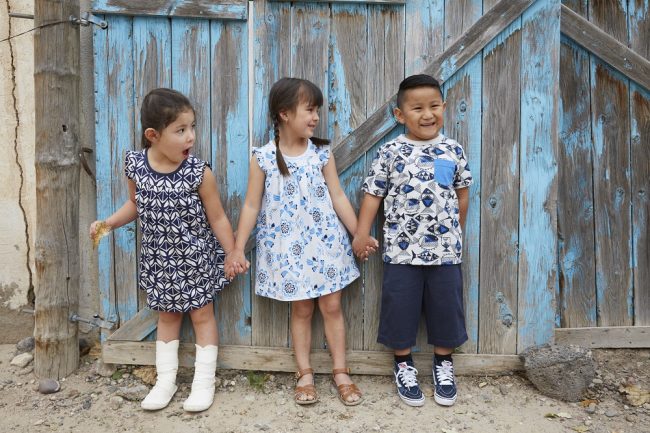 Practiced for over 2,000 years, pottery making is one of the most distinctive and long-lived crafts of North American Indian cultures. In New Mexico, there are 19 Indian Pueblos, each with its own unique set of customs and artistic traditions. While in Santa Fe, we had the opportunity to visit The Museum of Indian Arts and Culture, home to an extensive collection of Native art and material artifacts. In partnership with the museum, these latest styles feature one-of-a-kind prints inspired by Pueblo pottery found in the collection.
Learn more about our Museum of Indian Arts & Culture collaboration.
Don't miss out on these exclusive Native Artists designs. Shop the entire collection!
(Note: We've made individual arrangements with each artist/organization that we partnered with to ensure they are benefiting from the collaboration.)