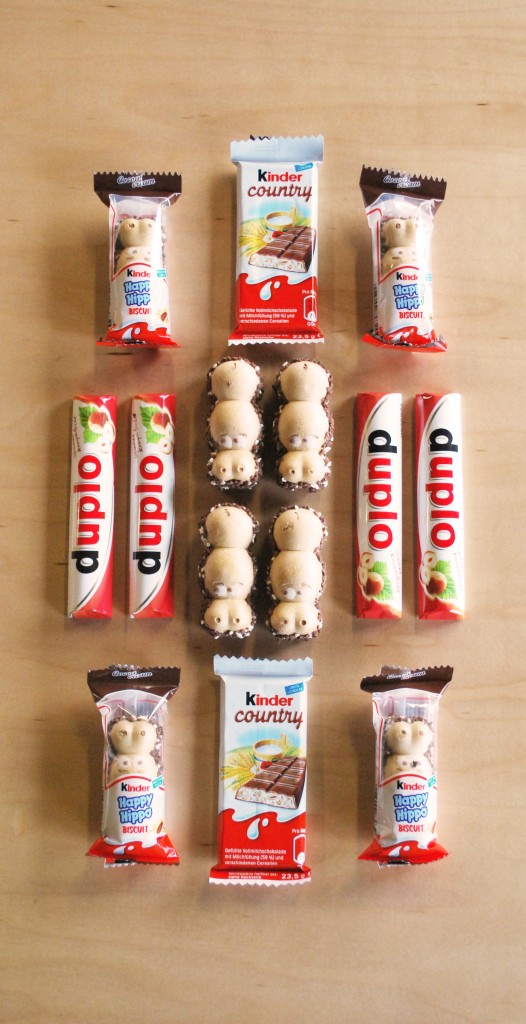 Did you know that Trick-or-Treating is a customary Halloween tradition that began in the late 1940s? The act of going door to door receiving food existed in Great Britain and Ireland where it was known as "souling". Children (and often the poor) would sing and say prayers for the dead and in return receive cakes.
We thought we'd use this holiday as an opportunity to introduce to you a few sweet German treats. Perhaps you'll be able to expand your selection of candy for the big day!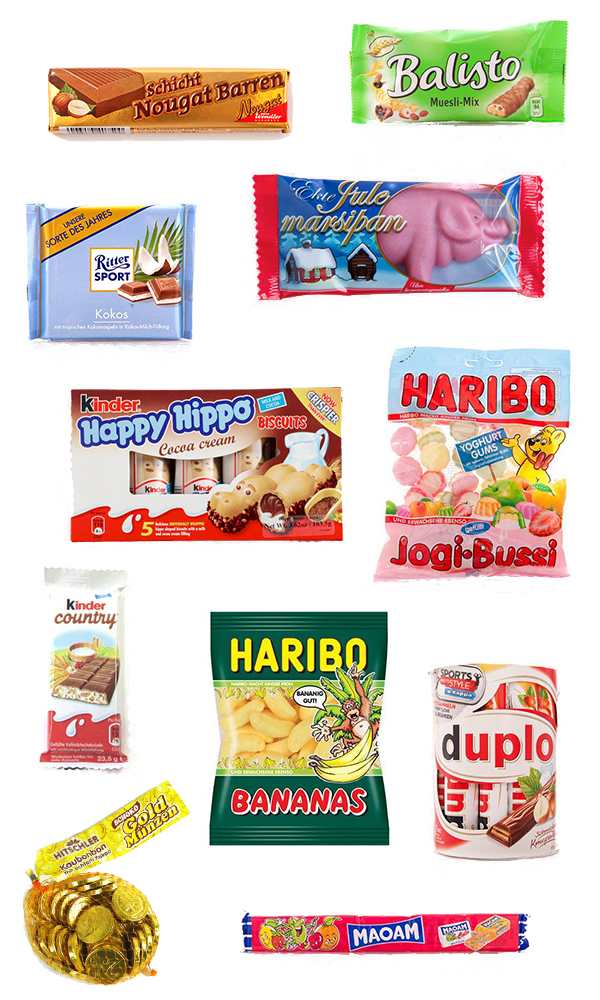 Nougat Barren is a classic chocolate bar from Wendler of Nürnberg. Made of a layer of dark and a layer of light chocolate and especially tasty when chilled!
Some may consider Balisto's Muesli Mix to be a healthy snack for school. Whole grains, raisins and hazelnuts are mixed into this chocolate bar.
You'll find Ritter Sport chocolates in many different flavors. One of our favorites? Kokos, made with coconut milk cream and crunchy coconut flakes.
Marzipan is made of sugar or honey and almond meal and often made into sweets. You'll find the candies in shapes of pigs, potatoes and fruit just to name a few!
Ferrero's Happy Hippos are not to be missed. This hippo-shaped crunchy wafer cookie is filled with two layers of chocolate – one rich chocolate cream and the other milk chocolate. One won't be enough.
Haribo candies are popular around the globe. Try the Bananas for a super sweet treat. Another favorite? Jogi Bussi's are actually filled with liquid yogurt… a fun surprise for new taste-testers.
Kinder Country is made up of small pieces of rice cereal and chocolate filling. A new breakfast option for your picky eaters?
While there are many different chocolate gold coins out there, we think Hitschler's are some of the best. Each mesh bag contains about 30 candy coins and you'll find each one wrapped in an euro and coat of arms design.
Dulpo's are similar to an American Kit Kat bar… Wafer cookies with nougat cream filling covered in delicious milk chocolate.
One of Germany's most popular sweet chewy candies — Maoam! You'll find five flavors in each package. Orange, lemon, cola, raspberry and strawberry… Something for everyone.
While we're at it, here are 10 more sweet treats from around the world!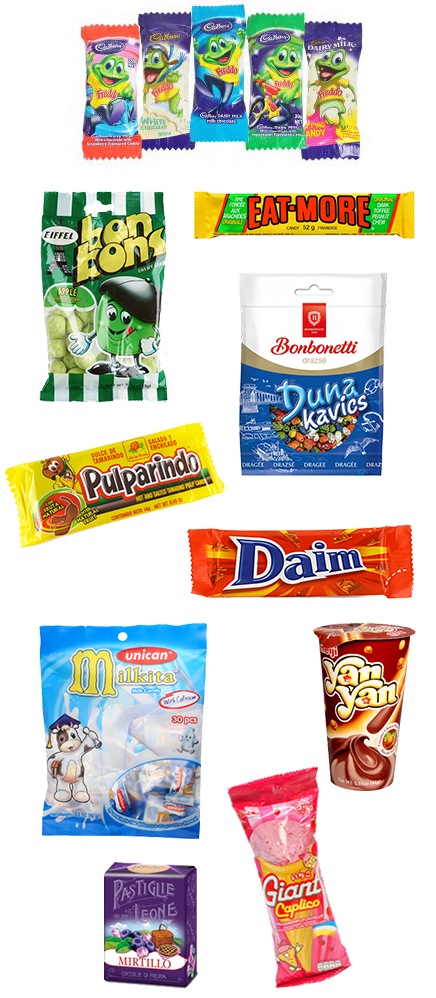 You'll find Freddo the frog in Australia, New Zealand, Ireland and Zimbabwe and in many different flavors. Our favorite? Crunchie.
Eat-More is a Canadian candy bar made of dark toffee, peanuts and chocolate. There's really nothing in the United States to compare to this unique treat.
Bonbon's, literally translated… 'Good Good!' Our favorite flavor is apple – Chewy, slightly tart and not recommended for those with braces.
Roasted peanut dragées with a colorful sugar coating. Hungry's Dunakavics are just as delicious as they are pretty.
Pulparindo is a candy that's tart, sweet, salty and spicy. Made from the pulp of the tamarind fruit… flavored with sugar, salt and chili peppers, this Mexican candy isn't for everyone.
The Daim bar is originally from Sweden and today, you can find them in your local Ikea. It's a crunchy butter almond bar covered in milk chocolate.
Fun fact: Unican Milkita candies have the highest milk content in the world! These Indonesian sweets begin as a hard candy and quickly turn to a soft, chewy texture. All flavors are equally delicious.
While some may consider Yan Yan's to be a snack food, we included it in our candy roundup due to the frosting that comes along side the biscuit sticks. This Japanese treat is very popular and comes in a variety of flavors.
A native to Thailand, the Giant Caplico cone is just that – an ice cream cone filled with a sweet filling that resembles freeze dried ice cream.
Leone Pastiglie is an Italian hard candy made of 'essences, extracts and herbs'. You'll find them in many flavors, always beautifully packaged in a small box and sealed with a gold sticker.