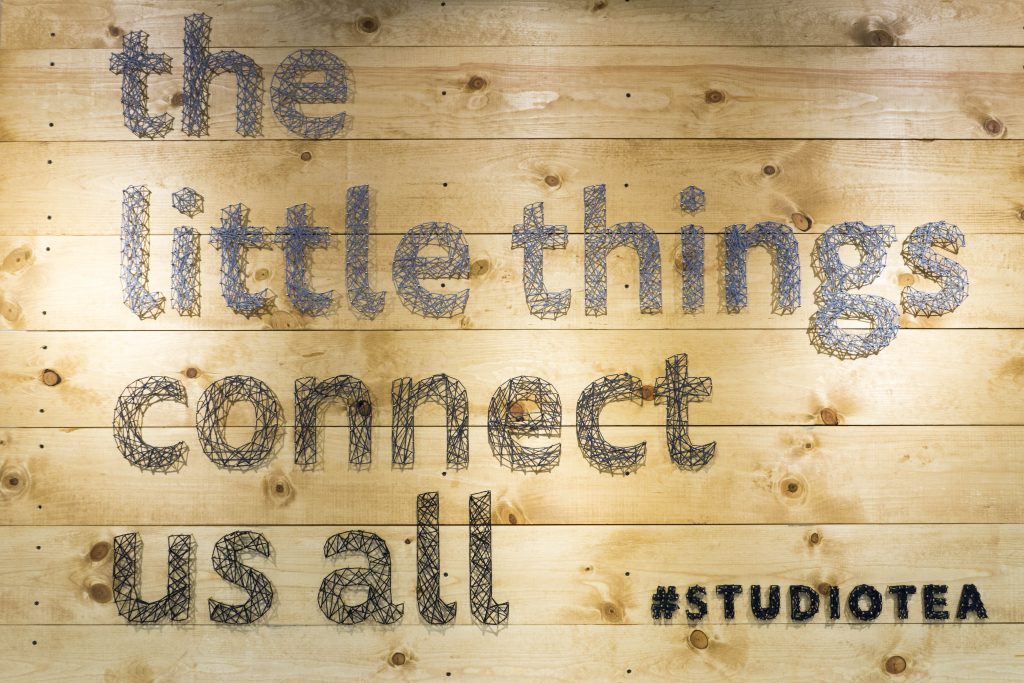 Here at Tea, we're always reinventing ourselves. Each season, we create completely new designs featuring one-of-a kinds prints and patterns inspired by a new destination. Throughout the year we analyze, discuss and research ways to better connect with our customers. We're always evolving our processes, with the hopes of creating a lasting connection with our customers. Innovation is always top of mind for us, whether its brainstorming or making business decisions. Innovation is what led us to take Tea on the road to Austin this past summer to host a back-to-school pop up shop. It's also what led us to open Neighborhood Tea at Kid Dynamo, a shop-in-shop experience at our longtime partner store in Berkeley, CA. And it's what drove us to open Studio Tea, a first of it's kind refuge for makers, new moms + dads, babies, friends and local Bay Area people to connect and engage with the brand and with each other. 
Our hope for Studio Tea is that people from all over the Bay Area come hang out with us! We'll be sharing all the amazing things we've learned through our world travels. We'll make the foreign familiar through fun, educational events for the whole family. Sometimes we'll host adult + child workshops, where you can come and learn a new skill, with your child. Other times, we'll host adults only classes, where you can mingle with other parents, enjoy some wine and cheese and just relax. It's the first time (that we know) a brand has ever taken a step offline and opened it's doors to meet their customers. We're not focused on sales, we're focused on the conversation. And we truly can't wait to meet you. Bring your friends, family, neighbors, co-workers, babies… you name it. We can't wait to meet you!
RSVP to these upcoming events:
Check out our upcoming classes and RSVP:
Saturday, 12/3: Japanese Form Paper Peony Making with Papel SF
Sunday, 12/4: Family Embroidery and Pin-making with Threadwritten Textiles
Wednesday, 12/7: Paper Airplanes with Tea Collection's Tyson Wong
Saturday and Sunday, 12/10 & 12/11: Holiday Bazaar with Tea and Other Bay Area Vendors
Tuesday, 12/13: Tea @ Tea and Nesting Days Adult + Baby Meet-Up
Saturday, 12/17: Family Sewing with Jamie Lau: Make a Bag!
Sunday, 12/18: Calendar Making with Maria Schoettler