This post was written by Cindy Young, the manager of technical design at Tea.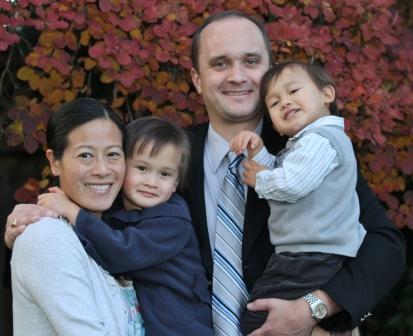 Cindy and her family
I came to the United States from China when I was 9 years old. Growing up in San Francisco, a city with diverse cultures and a large Asian population provided me with great comfort while assimilating into the new American culture. My first exposure to Christmas came through school, where we celebrated togetherness, exchanged gifts, decorated the room with lights and ornaments, listened to joyous music, and enjoyed lots of festivities and yummy treats; very similar to Chinese New Year actually. The jolly ole Saint Nick character was different though …
My family continued to celebrate Christmas to share in the experience with our American friends. Six years ago, I married my husband Brent, who is an American from Scottish/English and Greek descent.  His family is not religious and predominantly follows the American traditions for the holiday spirit.  They have a set of consistent traditions with the main focus being on family.  Generally, they aim to do fun and meaningful, but traditional, activities together such as decorating the tree, enjoying a nice formal dinner at home on Christmas Eve, going to Christmas plays or concerts, and laughing while frantically wrapping any last minute presents. On the big day, they take turns opening stockings and gifts before enjoying a hearty and delightful brunch with a delicious spread of food and Stollen (a traditional German loaf-shaped cake containing dried fruit, and covered with powdered sugar). They then call family and friends to wish them Merry Christmas, share stories from the morning, and catch up from when they last spoke.  Fully spent, everyone then takes a nap to re-energize for an evening of enjoying each other's company while watching movies and eating popcorn at home.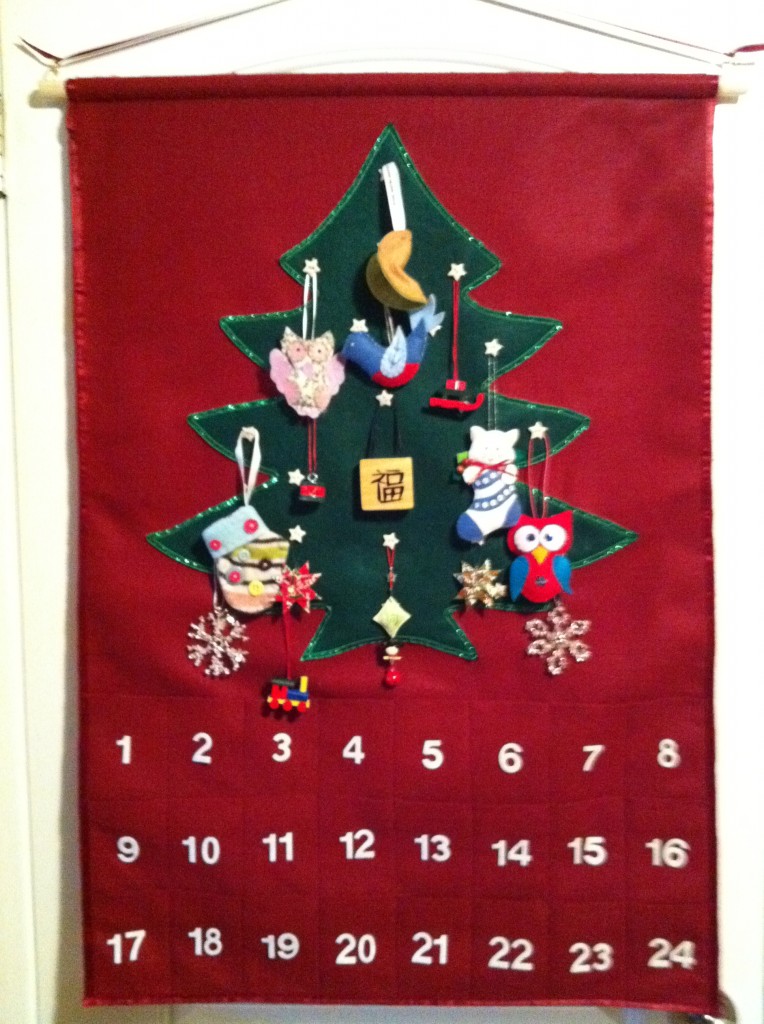 So, it seems like my husband's family traditions are not very different from my own. They are just different ways of celebrating with families and friends.  We have two toddlers now, and it wasn't until last Christmas that I began to really dive into the meaning of Christmas. To us, Christmas is now about creating wonderful memories and fun experiences for the kids, in addition to connecting with family and friends.  It's about doing things with the kids, helping them feel the Christmas Spirit through Santa Claus, and creating excitement and suspense about coming downstairs to find lots of presents under the tree.  To help our kids get involved with preparing for this Christmas, I created an Advent Calendar (pictured on the right) with their help. I did most of the sewing of course, but they put sticky numbers on the pockets and helped give lots of design feedback. A new twist to the classic set of ornaments, we incorporated some ornaments that reflect my Chinese heritage, such as felt crafted fortune cookie, wooden block with the brush stroke character "JOY," a wind chime, and origami stars.  Since December 1st, my kids have been alternating in taking the ornament out of each pocket to hang on the calendar.  They get so excited to do it every morning and sometimes fight over whose turn it is to do it again.  It was a bigger project than I thought, and finding the miniature ornaments that would fit into the pockets wasn't easy, but seeing their excitement in participation is rewarding and priceless.  I plan to recreate new editions of the calendar when they are old enough to experience more of the process in making it, and I look forward to learning and creating more traditions with my own family and teaching our kids the beauty of cultural differences and the true value of family traditions.