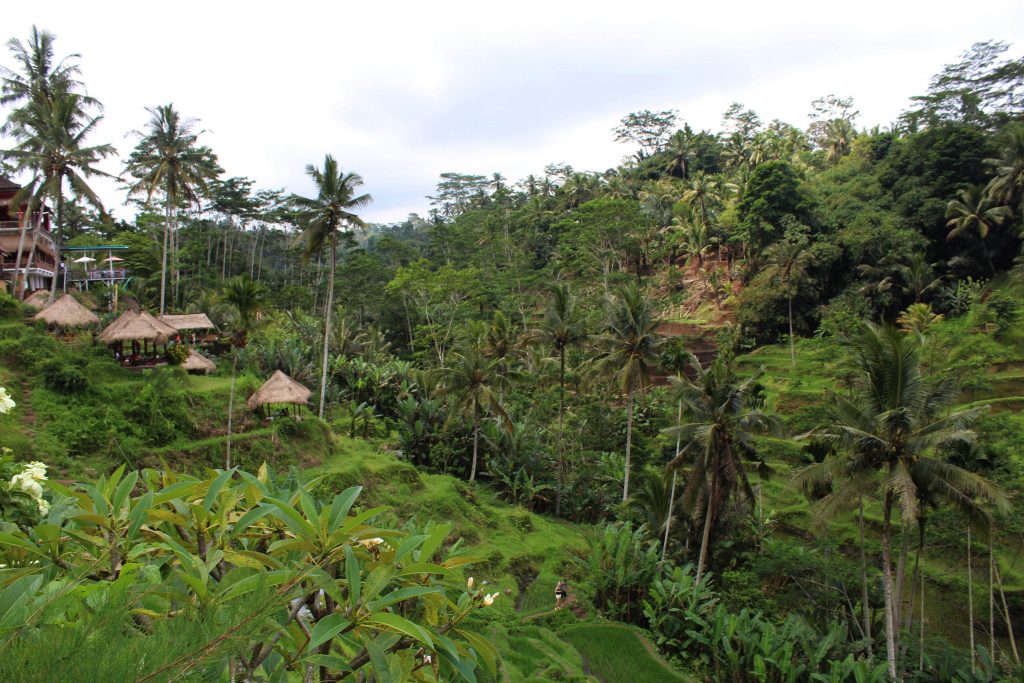 To help everyone at Tea "go there," we make a yearly contribution to each employee for international travel and exploration. Upon their return, our Tea travelers write a blog post to share their adventures with all of us (and the world)! We're so excited to introduce you to Britton, our Associate Brand Manager (she writes most of the posts here on Studio Tea!) and manages Tea's social channels. Follow along as she shares tales from her trip to Bali!
I consider myself to be a great trip planner. I begin months in advance; sourcing inspiration, tips and advice from many outlets. I read travel books, blogs and makes lists and lists of "must-see" spots. I am even one of those crazy people that lay their outfits out weeks in advance to make sure I have the proper shoe for every "look". Needless to say, I like to plan.
I began planning our trip to Bali six months prior to takeoff. Four months out, we had our flights booked, our three stops along the way picked out and I planned on taking the next two months to scour Airbnb for the best villas I could find and book excursions. Then, as it tends to do, life and work got in the way. At Tea, we planned and hosted a pop-up shop in Austin. At home, we planned a trip back to NYC for a wedding, weekend getaway and family reunion all rolled into one. By the end of the summer, I realized all that planning that I had meant to do, hadn't been done. I scrambled to organize my lists of restaurants, beaches and sights but figured I would plan it all out, day-by-day, on the plane. When we checked in at the airport and prepared to board the first leg of our flight, thirteen hours to Hong Kong, something clicked. Maybe it was the oxygen pumping through the plane or the glass of red wine but I did something crazy, I just let go. The next thirteen hours, the longest I had been on a plane and my boyfriend's first time out of the country, were some of the best hours of my life. Cut off from my phone and the internet, I took a deep breath and just relaxed.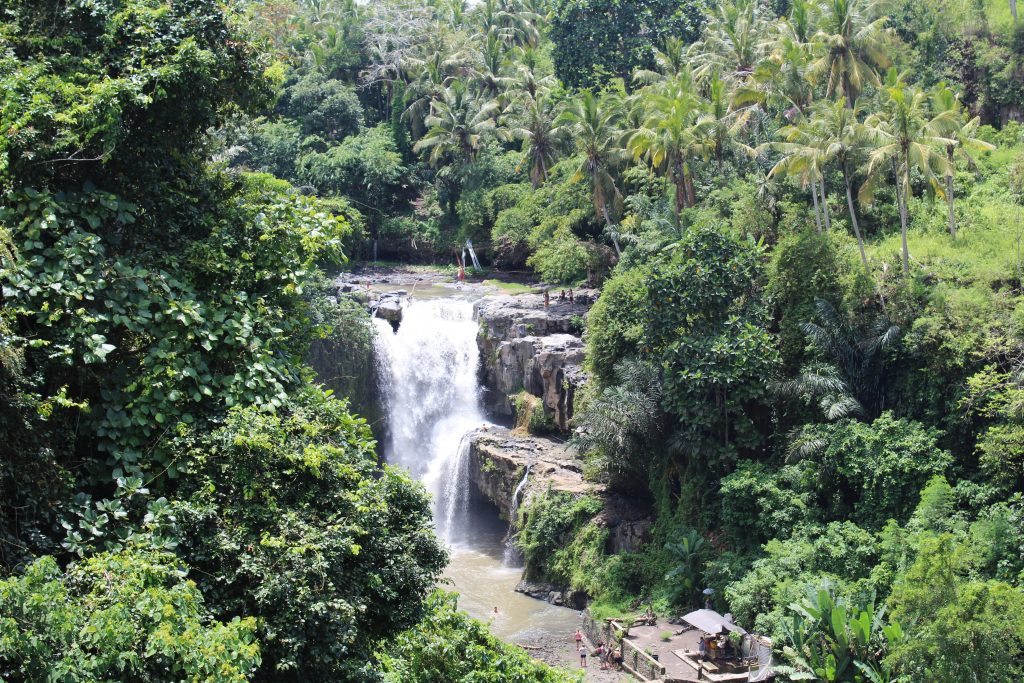 When we finally landed in Bali I was feeling fresh, happy and ready to explore. My boyfriend must have noticed the change, because that very first night as soon as we got to our house, he proposed! The next few days were the best and the smoothest. Even with my last minute reservations… our transportation, villa and restaurant choices could not have been better. We met and fell in love with a woman named Putu who came to our house each morning at 10:00 AM to clean the floors, open up the bamboo blinds to let in the light in the open-air living room and replenish our fruit bowl. We walked along the tiny streets lined with rice paddies from our house to the town of Seminyak each morning for coffee (super strong!) and acai bowls (so fresh!).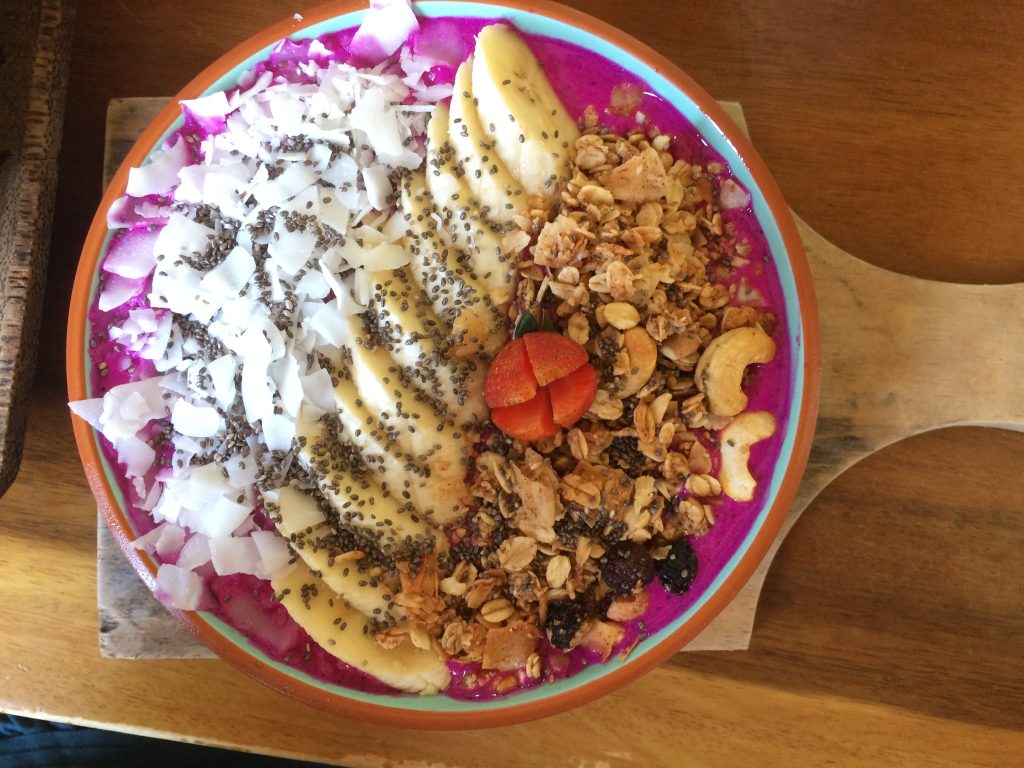 We spent the afternoons wandering around the markets or laying by the pool, always thinking about our next meal. We chatted with a lot of foreigners there on holiday from all over the world. But our favorite new friends were the locals who helped us along the way.
One night after heading 45 minutes north to check out a beach restaurant, we found ourselves lost in the middle of a monsoon. Everyone in Bali rides motorbikes, but being extremely accident prone and not terribly confident, we had been relying on taxis, which were now nowhere to be found. We decided to walk in the direction that we thought was the right way towards home (it wasn't) and were stopped by two teenage boys who offered us transport. Drenched and tired, we decided to take them up on it and found ourselves each on the back of a motorbike driven by a boy who couldn't be over 16. They took us on tiny mud roads, through the middle of rice paddies (all in a monsoon!) and eventually we found our way home with a lot of pointing and stopping. When they let us out at our house, I jumped off the back of my bike and hugged them both. I was exhilarated, it had been the scariest but most exciting thing I had done in a while. "San Francisco Britton" would never be that daring.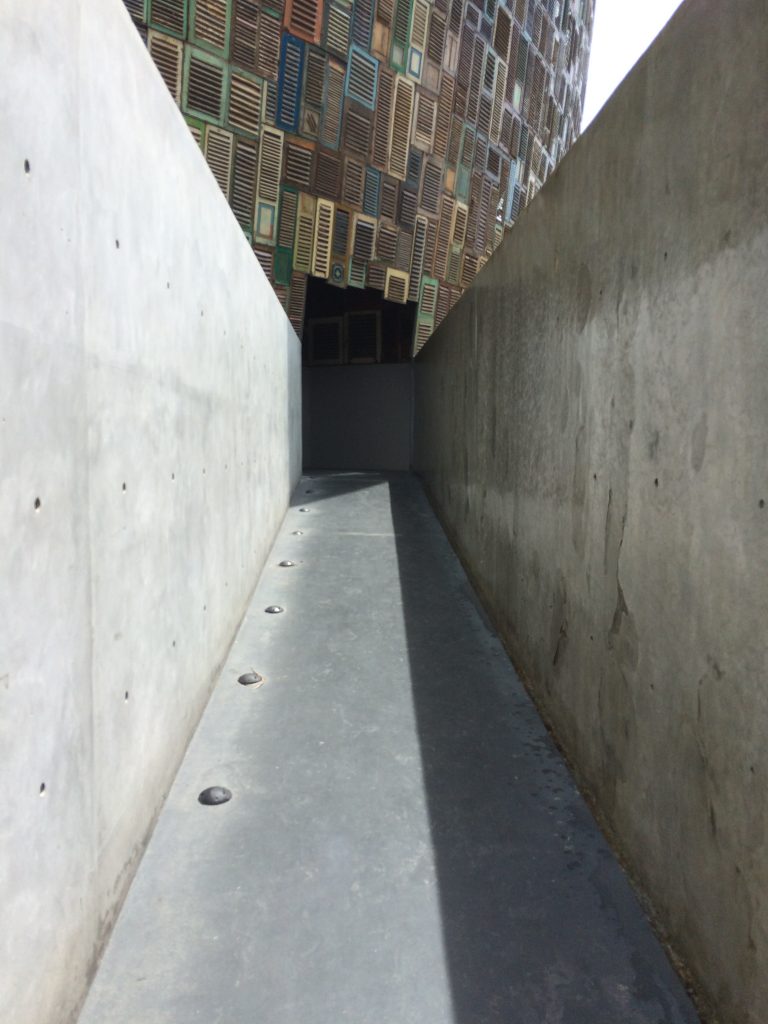 Our next stop took us north to Ubud, the cultural and artistic capital of Bali. We instantly fell in love with the slow pace of the town, and our hotel set far back in the jungle. Around dusk each day, we could hear crazy animal noises. Birds, monkeys and who knows what else were literally right at out stoop. Each day at 4:00 PM, the hotel served tea. The monkeys came out of their trees right at 4:00 to try and grab a snack for themselves. Interacting with them was one of the highlights of my trip!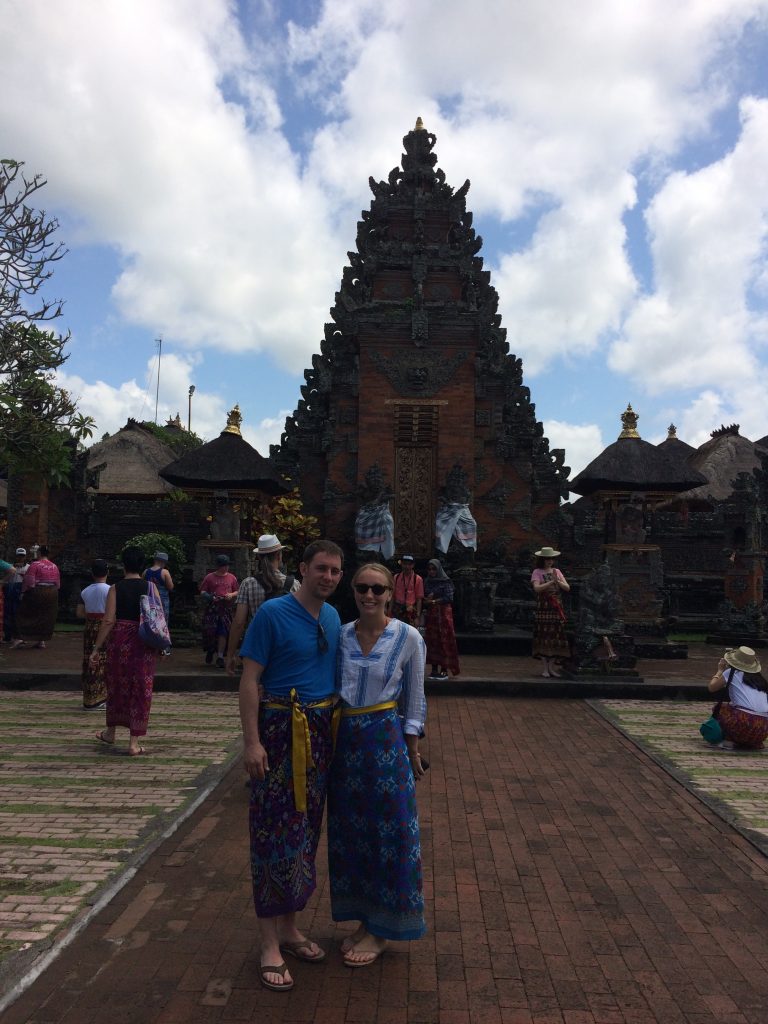 While in Ubud, we took a day trip to many temples and waterfalls in the area. Our tour guide, Pak Made, gave us way more than the typical tour. On our drive up to Ubud, he told us all about life in Bali and how it has changed over the past few years.
Tourism is their main industry, but the competition for the Balinese people in the industry is crazy. He said he was lucky to get 1 or 2 passengers a day, sometimes going days without earning money. We were so grateful to him for not only being a great driver but teaching us so many things about daily life. At the temples, he told us about ceremonies. 
We were lucky to be there right after Galungan, a Hindu holiday celebrating the spread of Hinduism in Bali. Every household sets bamboo poles called penjor that symbolize the blessing of Mother Nature. Each day, the women in the household set out offerings underneath the penjor or at the entrance to the home. These beautiful baskets are filled with rice, incense and flowers. They were everywhere!  We also stopped at the Tegalalang rice terrace to admire the view and learn about rice harvest.
We took a walk and laughed our way through the sacred monkey forest. As you're walking through, the monkeys would literally leap on your shoulder out of nowhere, curious to see what was in your bag. We joked that they definitely had a treasure pile of sunglasses and hand sanitizers somewhere deep in the forest.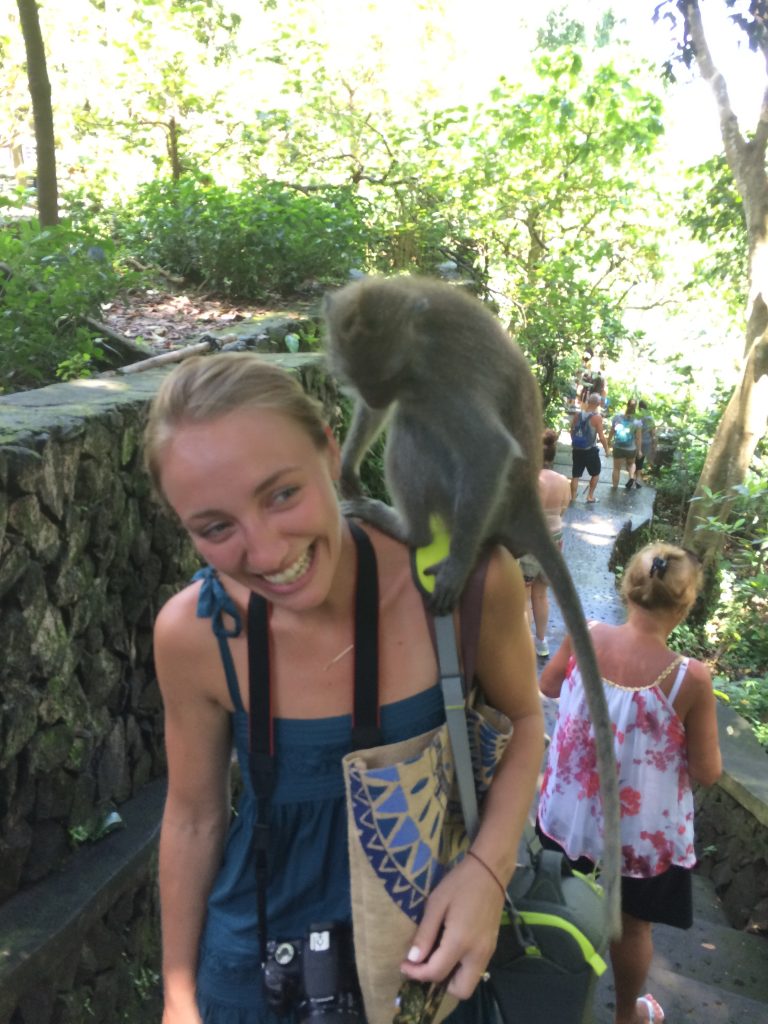 While in Ubud, we had the best authentic Balinese food. Nasi goreng (a fried rice) and ayam (a coconut curry) were standouts.
We snacked on kerupuk udang, a shrimp cracker that slightly resembles a pork rind, and fresh fruit everywhere we went. Nothing beats the fruit that we found in Bali. Many restaurants served pitaya bowls, a bright purple fruit kind of like acai, which was mixed with granola and bananas. It was by far the most colorful fruit we've ever tasted. 
We tasted Balinese coffee (Kopi Luwak) at a coffee plantation, made from partly digested coffee cherries defecated by the Asian palm civet. These little creatures eat the coffee cherries and poop them out! It was actually delicious and really strong.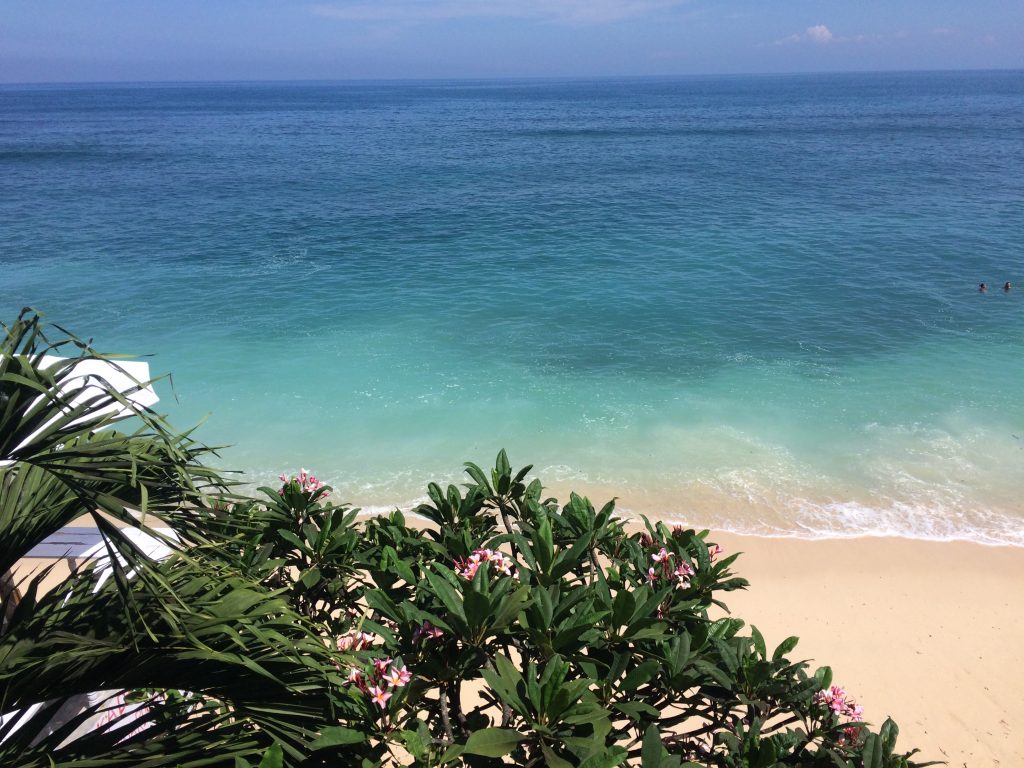 After two nights in Ubud, we headed down to the tip of Bali, a surf town called Uluwatu. We were looking forward to the coastal end to our trip. Sweeping views of the Indian Ocean, amazing sunsets and tons of seafood, filled our last three days. We snorkeled, kayaked and walked along the pristine beaches near Uluwatu Temple. Our last night, we stayed right on the beach in a tiny hut like room at the bottom of a cliff. To get there, we had to climb down 300 steps with our luggage. But once we got down, we realized there was truly no reason to leave and go back to town. Our hotel was filled with surfers, staying there for the convenience of the wake up and jump in the ocean location. The beach, Bukit, is rated one of the best surf breaks in the world. We made the executive decision that a top ten surf break wouldn't be kind to our amateur surf skills, but we swam a ton and combed the beach for seashells.
On our last night, we went to a seafood barbeque restaurant with tables directly in the sand. When we arrived, they ushered us over to the tanks filled with lobster, fish, calamari and shellfish where you could pick your own. They cooked it wrapped in coconut leaves on an open fire and served it to us on the beach while the sun set. Couldn't get any better than that.  
As we packed our bags and made our way up the 300 steps to head to the airport, I was sad and exhausted but didn't feel stressed or filled with crazy emotions. Change usually brings me to tears, but I felt a sense of calm that only vacation can bring. We were different people on the trip. We weren't afraid to ask questions and get recommendations from locals. We tried new foods, swam underneath a dangerous waterfall, slept in late, wore the same clothes three days in a row and experienced so many things we wouldn't try at home. The best part about it is, even though I hadn't planned every moment… when I got back home and looked at my lists, we had managed to do almost everything I had wanted to do. If I've learned one thing from the stressful preparation, it's to stop over-thinking. As much as I wanted the vacation to be perfect and each moment planned down to the second, the best things come when you just let go.