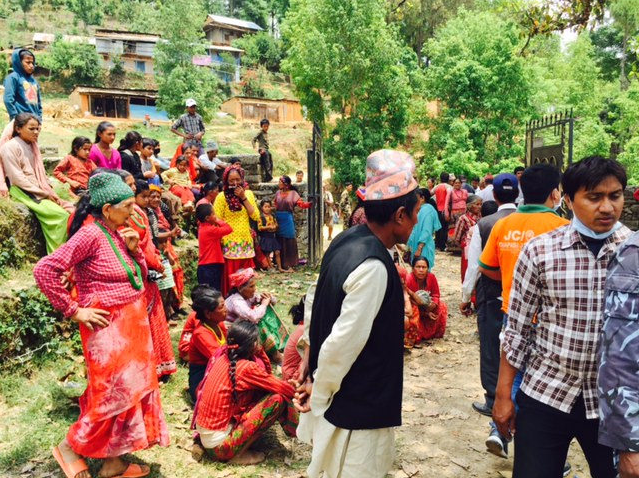 On April 25th, 2015, Nepal was hit with a 7.8 magnitude earthquake that struck mid-day and devastated the lives and communities of millions. In an effort to support those affected by the earthquake that devastated Nepal in April 2015, Tea worked quickly to aid in The Global Fund for Children's emergency relief efforts. For one week, Tea matched all customer and employee donations and we're proud to announce that together we raised over $8,900. We were blown away by this community and think it's important to share the impact your donations have had on the Nepal community.
The GFC was in a unique position as an aid-relief foundation in Nepal, as they luckily had many trusted partners already based there. The donations made by Tea Collection went directly towards the relief efforts of four of the GFC's partners based in Nepal: The Center for Awareness Promotion Nepal (CAP), The Partnership for Sustainable Development (PSD), The Gentle Heart Foundation (GHF) and The Prisoner's Assistance Nepal (PA Nepal). After the earthquake, these four organizations adjusted their programs to provide what was needed most for their communities. Their response was immediate, focusing on providing protection, supplying families with food, shelter and medial care. As the response turned towards recovery in the days that followed, the GFC partners began to think long-term—rebuilding plans and social support for the most vulnerable of the affected population.
Thanks to our support and the support of all of GFC's donors, the GFC is now able to support new grassroots partners who are well-placed to help Nepal recover from the earthquake. This spring, the GFC invited the International Child Research Institute to become a new partner. The ICRI is focused on supporting temporary learning centers to take the place of the 7,500 schools that were destroyed. The GFC is also hosting a Knowledge Exchange in Kathmandu that will engage peer learning around the issues of rehabilitation and social reintegration for the vulnerable children and the best practices of nonprofit resilience and leadership in the aftermath of a disaster. At this conference, the GFC's grassroots partners will share their lessons learned from the recovery efforts and begin the process of long-term recovery planning.
We're honored to be a long-time partner of the GFC and blown away by all of the support our Tea customers have given during Nepal's time of need. It is a pleasure to be able to report how your efforts have directly aided the relief and recovery efforts in Nepal. To learn more about the GFC's next steps, head over to their site.