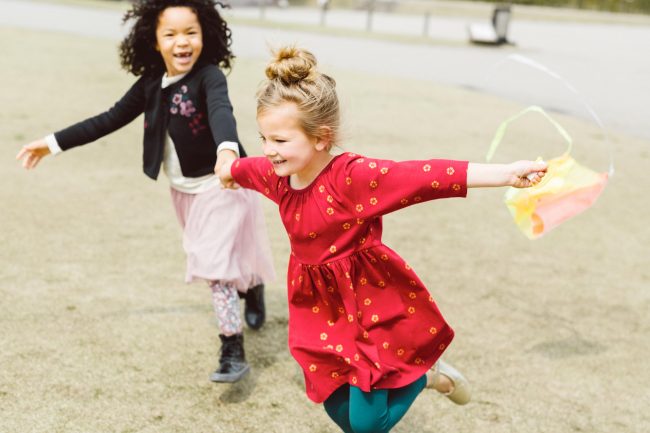 We go there. We travel to discover. To dream. To connect. We want to open up the world for all little citizens – whether it's exploring a new place or having a new experience in a new neighborhood. This fall, when it came to casting models for our catalogs, we skipped our usual agencies and instead, went to Japan! We wanted to connect and meet local families and we were thrilled to find such a mix of culture backgrounds. We met some pretty adorable and imaginative kids (and their parents too!). We had the chance to bring these families along with us to a traditional Japanese tea ceremony and talk to them about their lives in Japan. Today we'd like to introduce them to you!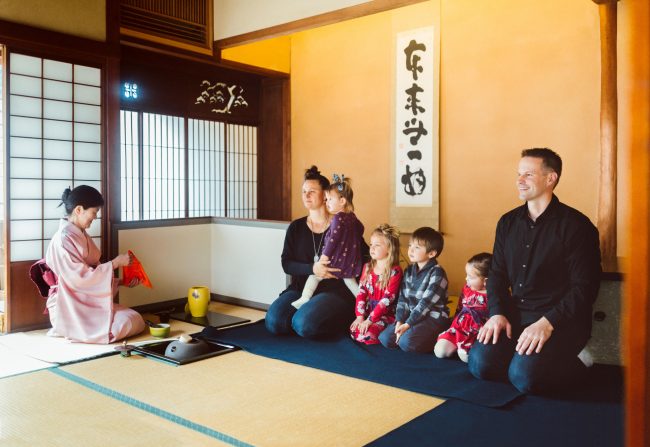 Meet Tenley, Avery and Ellaire.
These three sisters were all born in Japan, where their family has lived for 10 years. Jessica and Kevin, their parents, are teachers at a Tokyo school. Originally from Idaho, they thought they would only stay in Japan for a couple of years. "But now we'll probably be here until all the girls graduate from high school," Jess says. Jessica and Kevin have found that their family's global perspective adds a great deal of richness to their life. "Growing up in Idaho, I don't think I ever understood there was more world outside of where I was," Jess explains. "But Tenley has already traveled the world, she knows how big it is. She pays no attention to someone who looks different from her—she knows we're all just people." Although she admits it's hard to raise children half a world away from family, Jessica says they bring US traditions into their home—decorating a Christmas tree with Japanese ornaments, dressing up for Halloween. "Kevin and I miss home," she says, "but for our kids, Tokyo is home."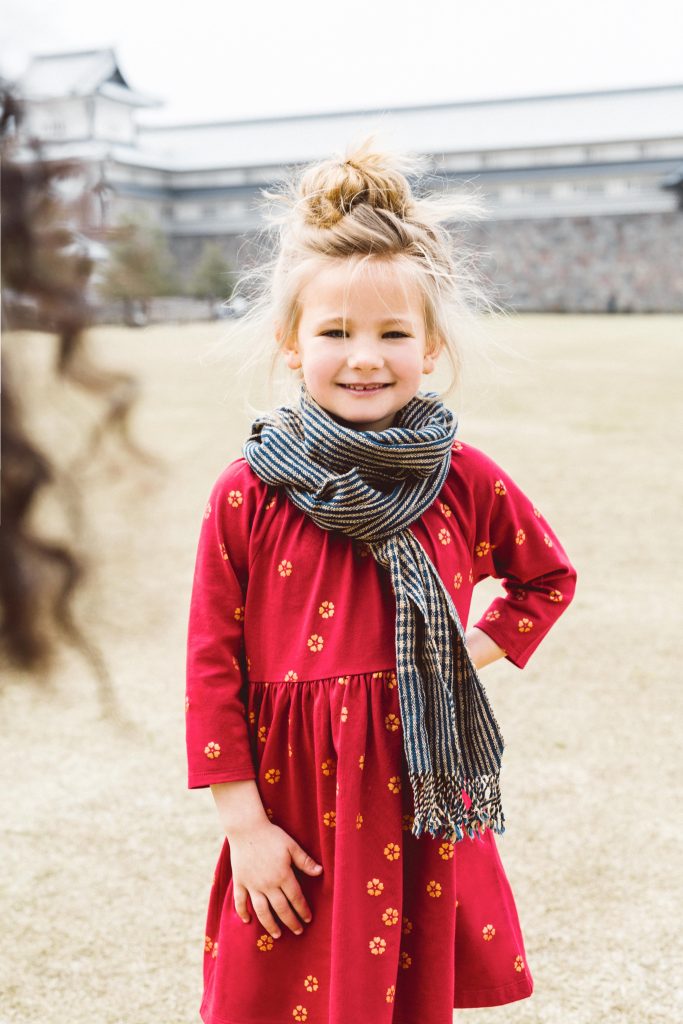 Tenley (6) never met a stranger—she makes friends with everyone she meets. She loves to sing and draw. Her favorite part of the trip to Kanazawa was learning how to do gold leaf art with her new friend Saju.
Fun facts about Tenley:
Favorite animal: Tiger
Favorite color: Rainbow
Favorite food: Cheeseburgers and fresh gyoza
Favorite TV show: Teenage Mutant Ninja Turtles
Favorite book: Any and all fairy tales
Favorite thing to do: Swim
Favorite song: Shake It Off by Taylor Swift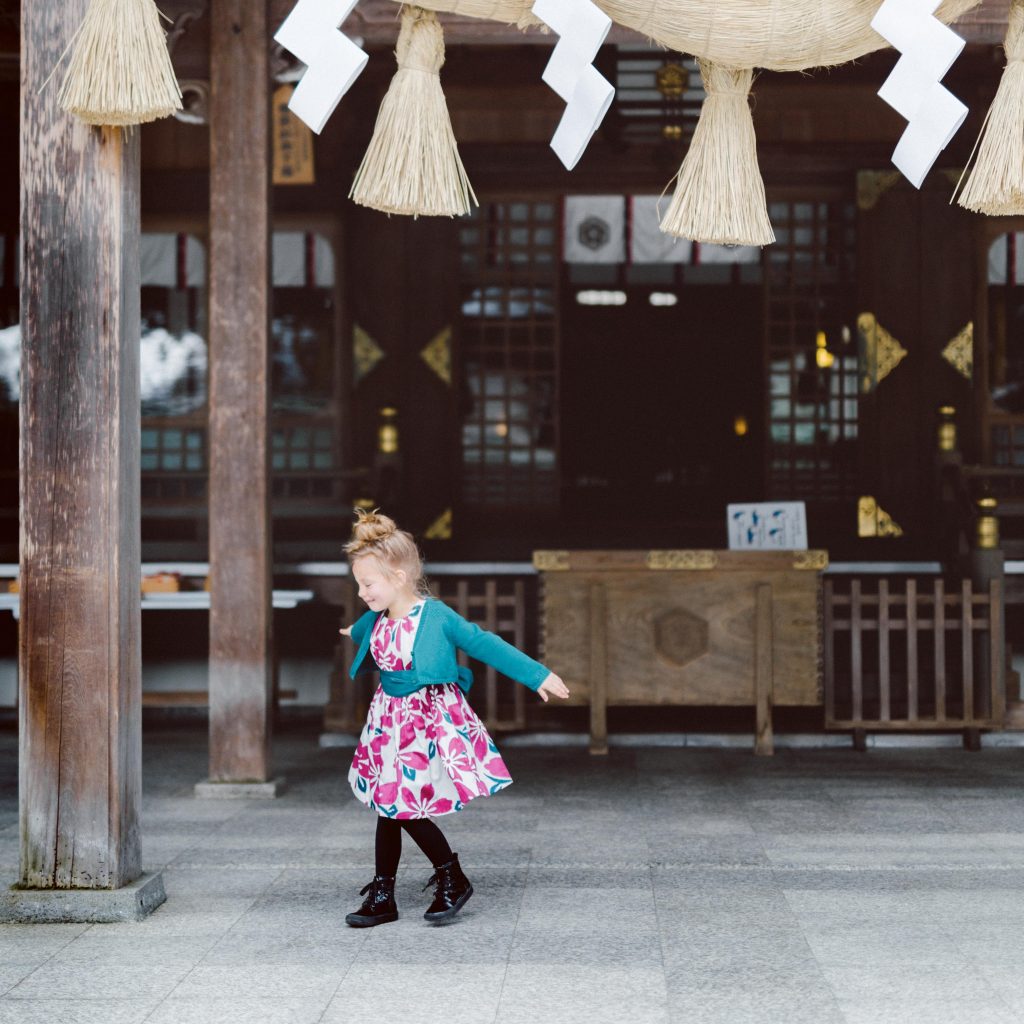 Avery (3) is very adventurous and daring. Her mom Jessica says that she "loves a challenge." Avery's favorite part of the trip to Kanazawa was riding the bullet train from Tokyo.
Fun facts about Avery:
Favorite animal: Horse
Favorite color: Orange
Favorite food: Broccoli and carrots
Favorite TV show: Kate & Mim-Mim
Favorite thing to do: Swing and ride bikes
Favorite song: Good Time by Carly Rae Jepsen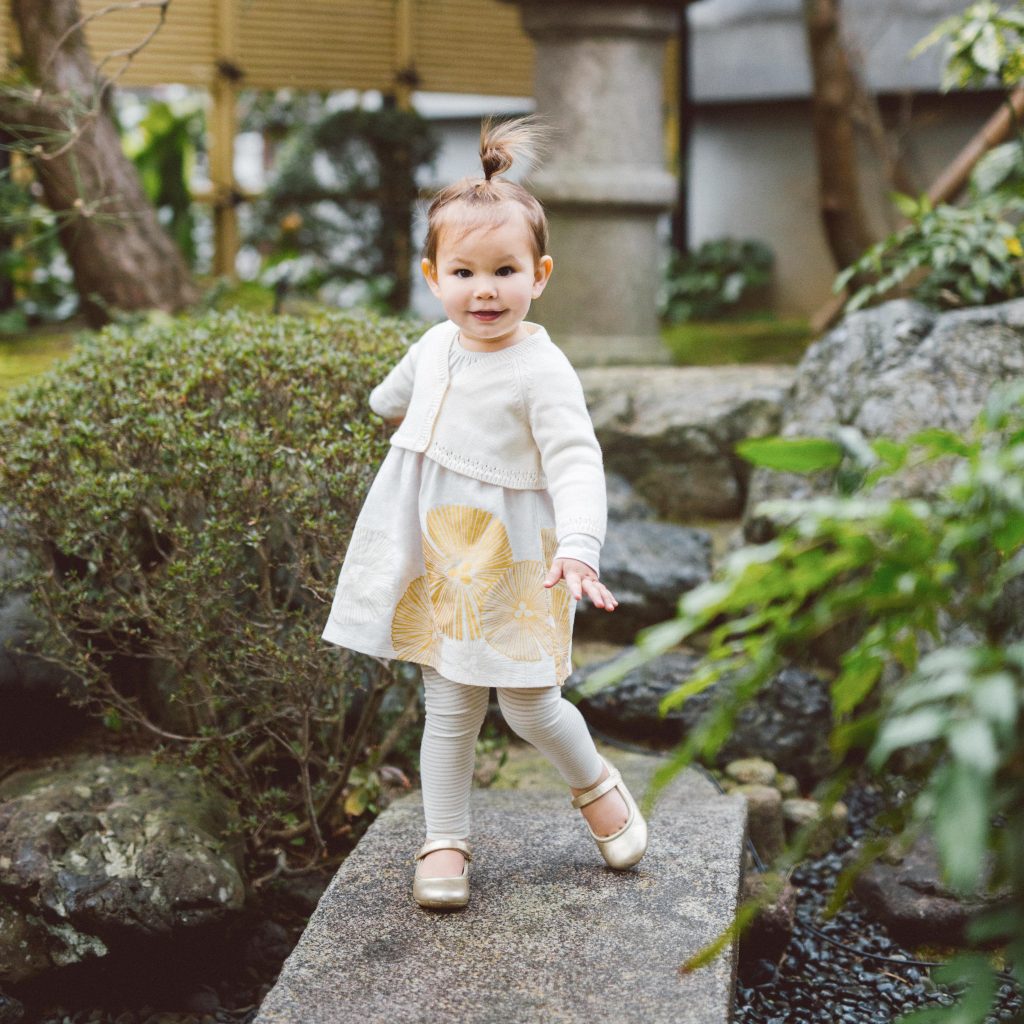 Ellarie (2) is outgoing, silly and tries to keep up with her big sisters by doing everything they do.
Fun facts about Ellarie:
Favorite animal: Dog
Favorite color: Dog color!
Favorite food: Mikan fruit
Favorite TV show: Paw Patrol
Favorite song: Twinkle Twinkle, Little Star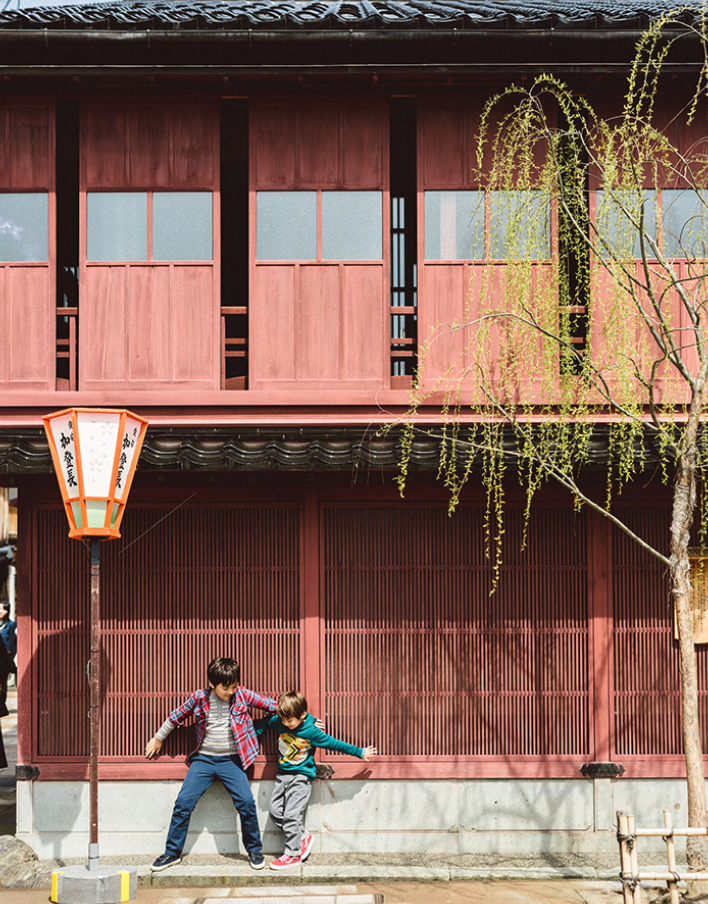 Meet Baughn, Tesla and Churchill.
"My boys are happy and loud," says Shino. Born in Austin, Texas, the boys have been living in Japan for nearly 3 years. They speak both Japanese and English, and enjoy the time they get to spend with their mom's side of the family in Japan.
Baughn (8) is very outgoing, inquisitive and imaginative. He kept the photo shoot crew entertained with a constant stream of facts about samurai warriors, Albert Einstein and particle accelerators.
Fun facts about Baughn:
Favorite animal: Giraffe
Favorite color: Orange
Favorite food: Texas BBQ and tuna sashimi
Favorite TV show: Star Wars Clone Wars
Favorite book: Eagle Strike
Favorite things to do: Swim and read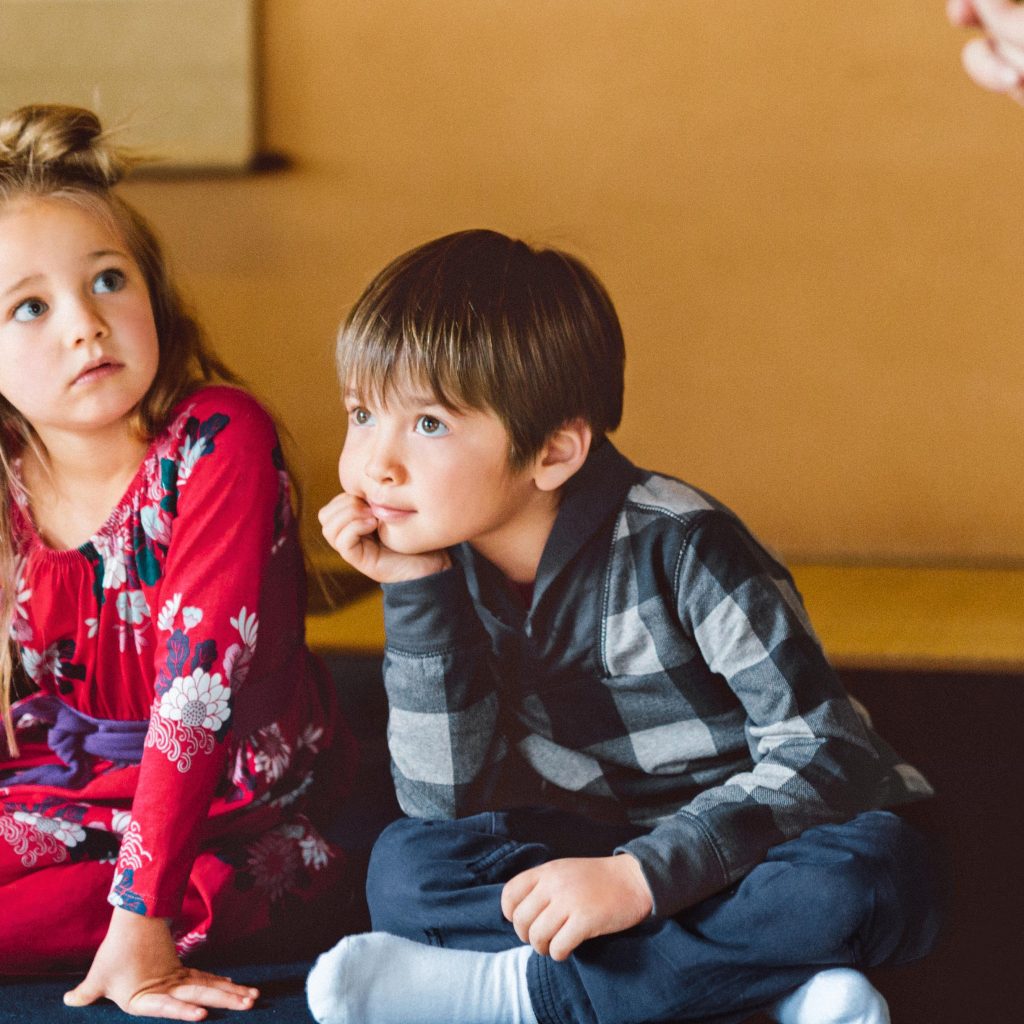 Tesla (5) is sweet and thoughtful. He enjoyed the tea ceremony in Kanazawa even though his legs got numb from sitting still for so long. He told his mom the green tea was "so yummy."
Fun facts about Tesla:
Favorite animal: Dolphin
Favorite color: Red
Favorite food: Chicken/corn quesadillas and salmon sushi
Favorite book series: An Elephant and Piggy
Favorite things to do: Exploring the neighborhood, making seasonal crafts with Mommy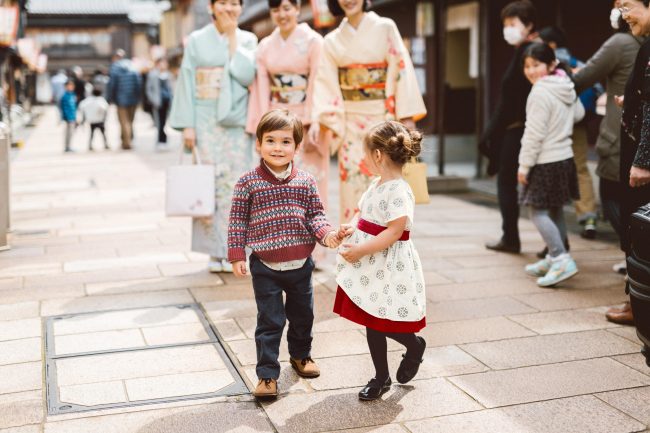 Churchill (3) is mischievous and cheeky. He loved riding the bullet train (Hokuriku Shinkansen) from Tokyo to Kanazawa, but unlike his brother, he thought the green tea at the tea ceremony was far too bitter.
Fun facts about Churchill:
Favaorite animal: Dog
Favorite color: Red
Favorite food: Hamburgers, French fries, and octopus
Favorite TV show: Lego City
Favorite book: Richard Scarry's A Day at the Fire Station
Favorite things to do: Run in the park, color

SAJU AND RUKA
Growing up in Tokyo with an American mom and a Japanese dad, Saju and Ruka get to choose which holidays and traditions they celebrate. When Saju lost her front teeth, her mom India gave her the option of putting the tooth under her pillow and waiting for the tooth fairy to come or tossing her tooth out the window, Japanese style. (In Japan, if you lose an upper tooth, you throw it down toward the ground so your new tooth will grow in the right direction. If you lose a bottom tooth, you throw it up toward the sky.) The kids are growing up speaking both English and Japanese, and celebrating Hanami (Girls' Day), Halloween, Children's Day, and Thanksgiving too. "We celebrate Thanksgiving with friends—a lot of them haven't experienced it before because it's such an American holiday, so they really enjoy it. We just have to make sure to order our turkey ahead of time," India says.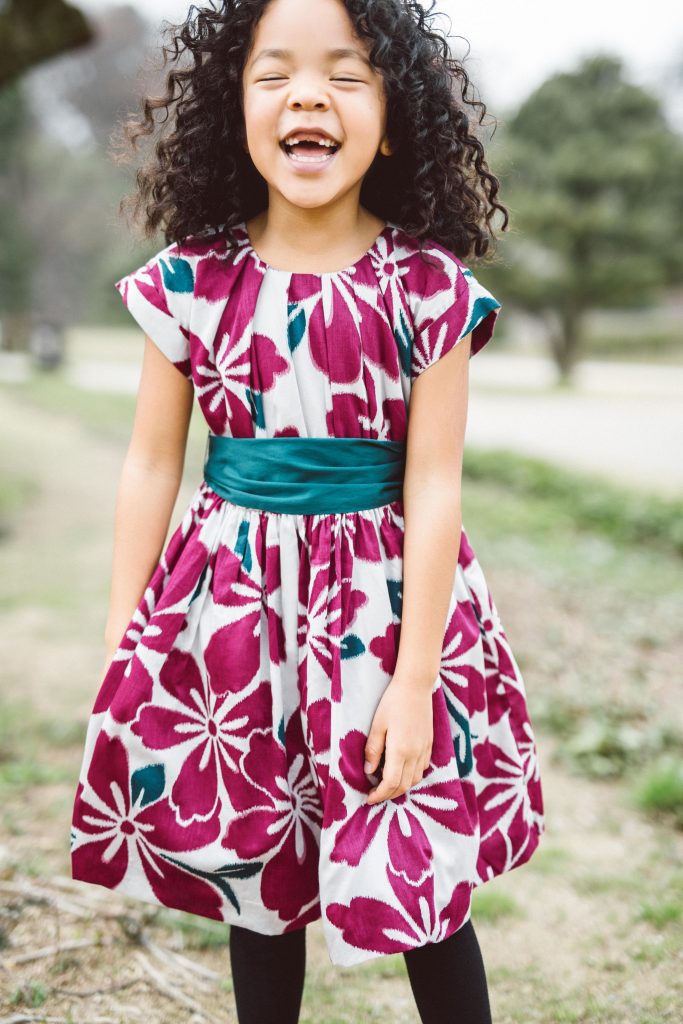 Saju (5) adventurous and friendly, it took Saju all of two minutes to become friends with Tenley during their adventures in Kanazawa. India, Saju's mom, says that she still talks about running around with Tenley on the lawn at Kanazawa Castle, trying to get their little kite airborne. She also loved learning how to gild a plate with gold leaf.
Fun facts about Saju:
Favorite animal: Elephant
Favorite colors: Pink and red
Favorite food: Pasta and yakitori
Favorite TV shows: My Little Pony and Wildkrats
Favorite books: My Favoritist Dress and Ladybug Girl
Favorite things to do: Swim, draw, ride her bike
Favorite song: Happy by Pharrell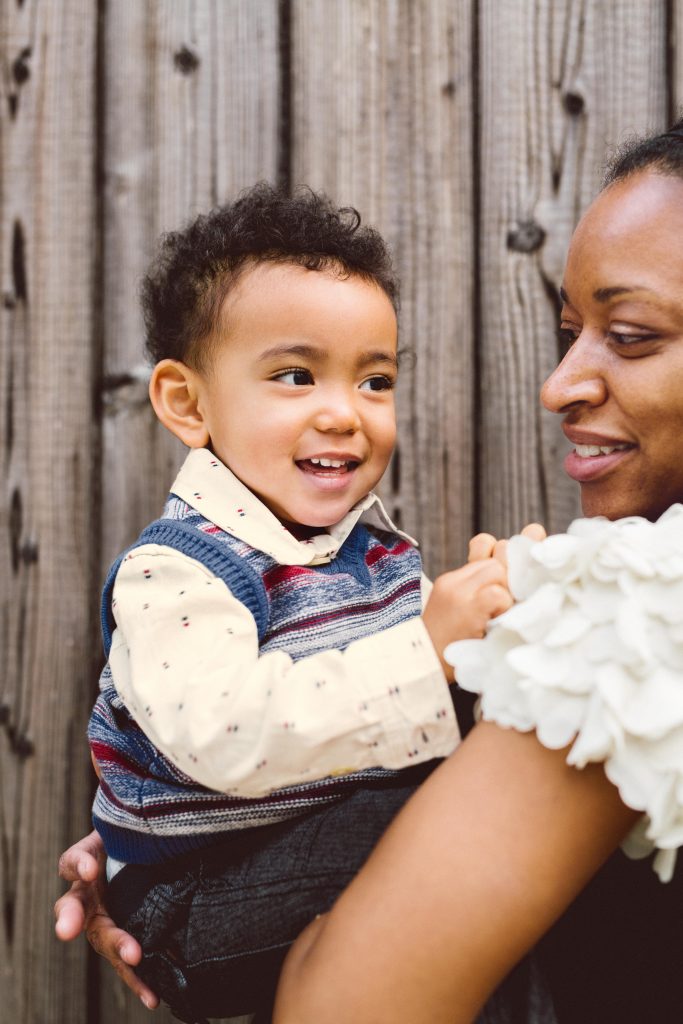 Ruka (2) is a happy and friendly little guy. His biggest memory from the family's trip to Kanazawa was looking at bugs at the Shirayamahime Shrine in Hakusan City.
Fun facts about Ruka:
Favorite animal: Dog
Favorite color: Orange
Favorite food: Miso soup and spaghetti
Favorite TV show: Caillou
Favorite book: If You're Happy and You Know It
Favorite things to do: Play with blocks and dance!
Favorite song: Twinkle Twinkle, Little Star
Want to meet even more of our new friends featured in this fall's catalogs? Check them out here.